Battlestations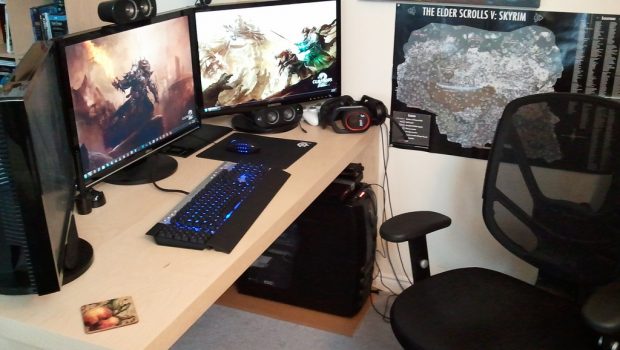 Published on January 20th, 2012 | by Bob
4
Bro Cave: @jeffdalley
This week, we've got another multi-monitor setup, this time from Jeff a.k.a. Thric3r. The monitors aren't just for show (or games); this gentleman is a .NET developer by trade. He received some bonus points for starting his gaming career on a MUD.
Hey all,
So I started out my PC gaming career with Doom and Quake… Okay, I lied. My first PC 'game' was a MUD called The Eternal City–one of those crazy text RPGs. Whew! Now that we have that out of the way… Besides Doom and Quake, I was into the Myst and Riven games for a while, then I really started to hit my stride once Half-Life dropped. I mixed in some Counter-Strike and Team Fortress Classic there as well. My first MMO was Asheron's Call (which had the best PvP ever), and this was the game that created some of the best memories for me when it came to sitting in front of a computer gaming, hands down.
Throughout this phase up until just before World of Warcraft launched, I had been gaming on PCs and setups scavenged from my uncle's basement. I coined it the PC graveyard, as it was chalk-full of a half-dozen, half-built PCs at any given time. Those were the days! I remember coming home stoked because I managed to find an extra 128MB stick of RAM! SCORE! Anyway, my first gaming PC was bought for me pre-built from Dell that I got for Christmas just after WoW launched. I didn't even have to go through purchasing it to know I would ALWAYS build my own from then on, and I've built my own PCs from scratch ever since. I went hard on WoW for years, picking up a few single-player RPGs here and there. I even tried some consololol, but I always found my way back to the comfort of knowing my way around hardware/software and enjoying the multitasking and customization goodness that PC gaming provides.
These days, I'm playing a bigger variety of PC games, from Battlefield 3 to Skyrim to dungeon crawlers and indie games from the humble bundle packs. I think my Steam account is worth over $1200 at this point, and there's no end in sight. I just put a massive 150-hour playthrough into Skyrim, and now I'm going hard on Star Wars: The Old Republic. I'm looking forward to Diablo III and news about Project 'Titan', but the game I'm MOST stoked for is Guild Wars 2 – Bring it on, ArenaNet!
Anyway, onto the rig itself:
I had always built Intel machines prior to 2010, but I promised myself I'd try an AMD build to save some cash and generally give their CPUs a shot. Boy, do I regret it… Saving cash is nice and all, but you just can't beat the per-core processing power and the superior chip architecture of Intel these days. I'll be back to Intel with my next build, and I might even give an Nvidia card a shot – unless I can't find one to run that will 3 monitors. :p
Specs:
CPU – AMD Phenom II x6 1090T BE @ 3.4
CPU Cooler – Cooler Master Hyper TX3
Motherboard – Gigabyte GA-890FXA-UD5
Memory – Corsair 8GB DDR3 @ 1333MHz
Hard Drive –  Intel X-25M 80GB SSD, WD Caviar Black 500 GB
Video Card – Sapphire Radeon Vapor-X 1GB GDDR5 HD5870
Case – CoolerMaster Storm Enforcer
Power Supply – Corsair AX650W (Professional Gold)
Monitors – 2x Samsung 245BW (24″ 1920×1200) + 1x ASUS VW266H (25.5″ 1920×1200)
Operating System – Windows 7 Ultimate 64-bit
Keyboard – Corsair Vengeance K90 
Mouse – Razer Naga Epic 
Mousepad – SteelSeries 4HD 
Other things in the pictures:
– Desk from Ikea
– Random mesh-back chair from Staples (pretty comfortable, actually)
– Wacom Intuos 4 tablet
– Psyko Carbon headphones
– Xbox controller for Windows (I swear it's only for game development testing, gotta support those controllers… and I secretly use it to play platformers, shh!)
– Map of Skyrim 
– Ibanez QZ520 and a Peavy 112 tube amp
– Wall sconce holding a sweet rusting iron guitar I found!