Battlestations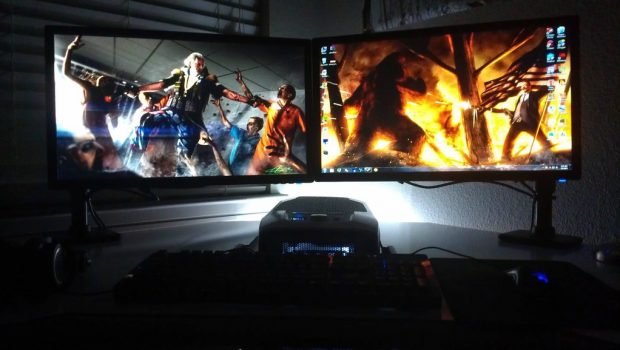 Published on March 9th, 2012 | by Bob
11
Bro Cave: @CharIieTango
Another week, another Corsair 600T White.  I'm sorry (sort of) – the case is too good.  This time it's not about that, though.  Our featured cave this week includes arm-mounted 24 inch monitors, bias lighting, a customized (whiteboard) desk, and a keyboard that means business.
"My gaming life started at when I was about 8 with a Nintendo 64. Scumbag dad got me Doom64 for my first game. As an 8 year old playing his first video game ever, this was the equivalent of Amnesia. I loved it though, and beat it a few times before moving on to other games. I wasn't actually all that big of a gamer before high school. We had a family PC, but I was so tech illiterate at the time I couldn't even tell you what brand it was. I probably would have played games on it, but my parents would have kicked my ass if I had done anything to that computer.
Once in high school my friends started playing Xbox. This was the peak of the CoD4 revolution and I picked up a console for more of a social thing than anything else. I completely fell into gaming and started playing in my free time. CoD4 lasted pretty much throughout high school until I graduated. When I left for college nearly all my friends quit gaming. I'm not sure why that was, but there was no way I could keep playing without anyone to party up with. During my freshman year at college I really got into watching youtube videos, which of course led me to finding out about the superiority of PC's over consoles. At the time I had no idea how a PC worked or how to use one effectively. Well a few months of Xbox gaming by myself went by, and I decided to learn how to build a PC to game on.
Countless hours were spent learning everything from scratch. I read every article and watched every video that I could get my hands on. Eventually I had learned enough to drop the cash and try and build my own PC. As someone who couldn't tell you what a socket was only months before, this was pretty intimidating. Without too much trouble I was able to knock out my first build last May.  It wasn't without setbacks – after staring at a Memtest screen for about 6 hours I figured out I had a bad stick of RAM.
As far as the "cave" itself, I also modified my desk and put whiteboard on top. Now I do all my homework straight on my desk and wipe it away when finished.
That brings me to today. I am currently a sophomore at a university that Brandon probably doesn't like too much. The ironic thing is that since building my PC I still haven't found a single person to play with (irl anyway). Even simple things like talking on ventrilo are difficult when you live in an apartment. My roommates just can't appreciate teamwork at 3am for some reason. So for now I just play by myself and hang out with friends doing other things besides playing games. Anyway, thanks for reading about my boring ass transition into PC gaming."
Specs:
i5 2500k @ 3.8Ghz
Gigabyte GA-P67-UD3-B3
Thermaltake Frio CPU Cooler
8GB Ripjaws X 1600
Sapphire 6950 1GB
Corsair HX850W
Samsung Blu-Ray
WD Caviar Black 2TB
Corsair Force 40 SSD
Asus Xonar DX
Corsiar 600T White
Peripherals:
2x Asus VE248H
Das Keyboard Model S Professional Silent
Razer Deathadder
Audio-Technica ATH-M50