Battlestations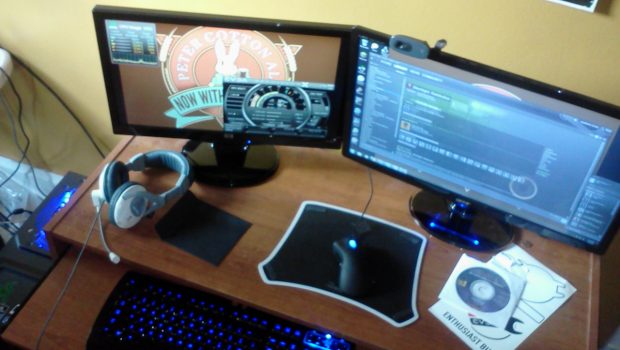 Published on July 20th, 2012 | by Brandon
8
Bro Cave: @Stafunoob
This week's bro cave comes to us from Tim a.k.a. @Stafunoob, who has a clean dual monitor setup with a generous helping of blue LEDs.
How's it going everyone? I am a virgin to this Bro Cave thing, so please be gentle on me… It is my first time, after all. My name is Tim, and I live in a lovely city called Butler, about 45 minutes north of Pittsburgh. When I'm not at the public pool that I manage for 60 hours of my week or at the bar drinking away my stress, I spend my time here gaming AND drinking away my stress (Yuengling is my beer of choice for all of you that live in the area).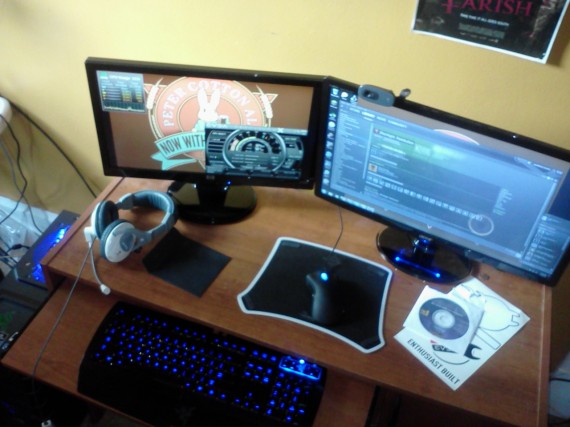 This build has been about a year in process due to unforeseen bills/sheer laziness, but today I finally have it right where I want it to be (finally got my 670!). I've generally been doing some sort of PC gaming all my life. I've had my consoles while growing up, but most of my gaming enjoyment has come from the PC, whether it be the original Unreal Tournament (I beat the shit out of those bots), the original Deus Ex, the entire Star Wars: Jedi Knight series, or discovering competitive online gaming through Day of Defeat 1.3. And these are all games I still go back to on a regular basis! Lately, I've been sinking my teeth into Team Fortress 2 and Blacklight: Retribution (free-to-play or bust!).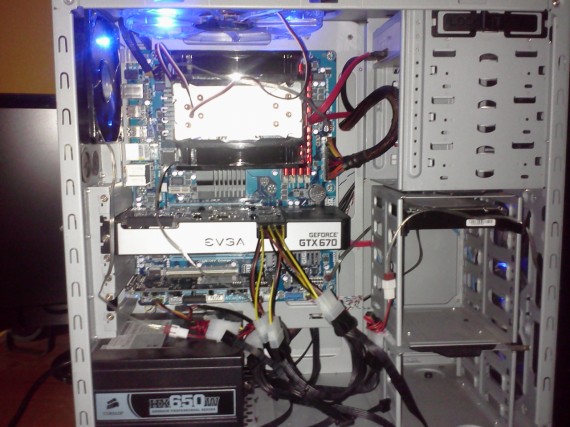 PC specs:
CPU: AMD Phenom II x4 955 (OCed to 4.2 GHz)
Heatsink: Hyper 212 EVO with fans in push/pull
Mobo: Gigabyte 990XA-UD3 AM3+
RAM: 12GB G.Skill Ripjaws X
GPU: EVGA GeForce GTX 670
HDD: Seagate Barracuda Green 2TB
PSU: Corsair Professional Series HX 650W
Sound Card: Creative Sound Blaster Audigy SE 7.1
Case: Cooler Master HAF 912
Fans: 5x Cooler Master 120mm Blue LED, 1x Cooler Master 200mm Blue LED
Display (Left): HP S2031 (20″ for Twitter trolling and Facebook creeping)
Display (Right): Acer S23HL (23″ for gaming and more gaming)
Keyboard: Razer Lycosa
Mouse: Razer DeathAdder
Mousepad: Rocketfish Standard (please sign it, Dan!)
Headset: Turtle Beach Ear Force X1 (old school, bitches)
Speakers: $20 Walmart speakers!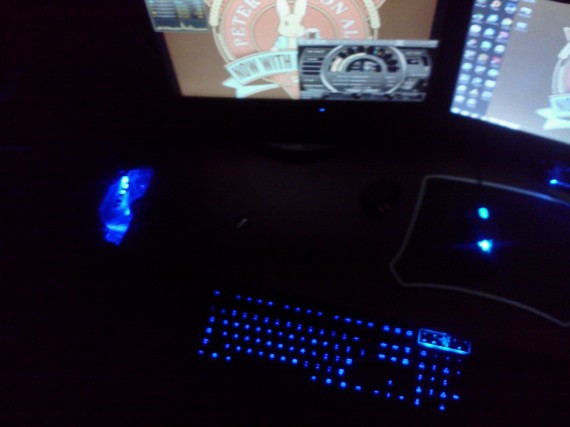 The only things that I really WANT to add to this build are a solid state drive and eventually a new motherboard and 2600K when prices are right. I gambled on the Bulldozer line being amazing, and I lost. You could say it cost me everything. :(