Battlestations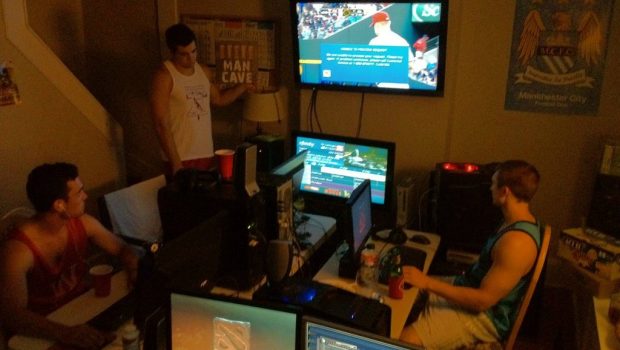 Published on August 10th, 2012 | by Brandon
10
Bro Cave: oCon001
After attending QuakeCon last weekend, I'm still in a LAN state of mind. So this week, we feature new KBMOD forum member oCon001, who shows us the temporary bro cave he and his friends set up for their recent LAN party! Anyone up for a LANcation? I'll bring the Bawls!

Hey Guys, my name is Matt, and I just wanted to start by saying KBMOD is a great PC gaming site. The weekly podcasts are hilariously entertaining. Keep up the great work.
This Bro Cave submission is a bit different than others, as in it's more of a LAN Cave submission, but I assure you our hearts are in the right place. This past weekend, my buddies and I held what we like to call a "LANcation," where we set up our rigs, drink beers, down energy drinks, eat an excessive amount of unhealthy food and snacks, and downright game for all available hours of the weekend. As you can imagine, it is absolutely the best time a gamer can have. We have been gamers our entire lives, and at the beginning of the year, we decided to collaborate and build ourselves new gaming computers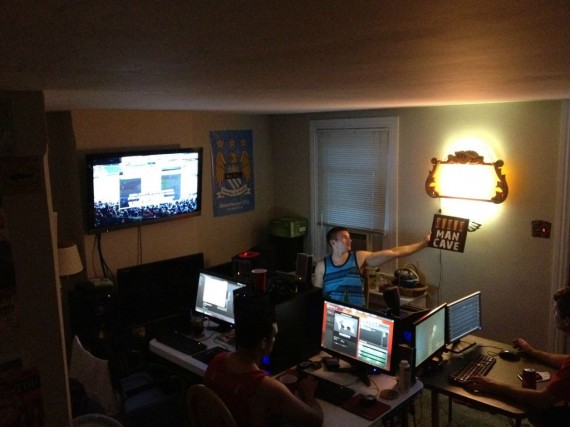 The days of playing Counter-Strike 1.6 CAL-O scrims and Warcraft 3 Frozen Throne 4v4's (still a top game of all time) are behind us, so we knew the 2012 PC gaming lineup needed to be taken seriously. Since we completed our builds, we schedule our "LANcation" weekends with great anticipation. Our current games lineup revolves around Dota 2, Team Fortress 2, and Blacklight Retribution. We're also very excited for Planetside 2 because we LANned the shit out of Planetside back in high school. We were on a console-only run for a couple of years, but we are back in action on the PC and very happy about it.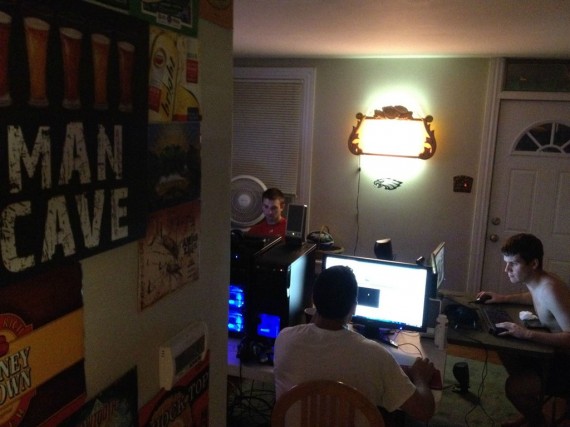 Rig #1 (Matt)
CPU: AMD Phenom II X4 960T Zosma 3.0GHz (overclocked to 3.4 GHz)
GPU: EVGA 01G-P3-1460-KR GeForce GTX 560
Motherboard: Gigabyte GA-970A-UD3 AM3+
Memory: Kingston HyperX Blu 8GB (2x4GB)
Monitor: Acer G245HQABD 23.6″ LCD Monitor Black 5ms
Heatsink: Cooler Master Hyper N 520
PSU: Silverstone Strider Essential series ST60F-ES 600W
Case: Rosewill Challenger Black Gaming ATX Mid Tower
Headset: Turtle Beach Ear Force X12 Gaming Headset
HDD: Hitachi Deskstar 7K1000.C 500GB
Mouse: Logitech MX310
Rig #2 (Dan)
CPU: Intel Core i5-2500K
GPU: EVGA 01G-P3-1460-KR GeForce GTX 560
Motherboard: ASRock Z68 Extreme3 Gen3 LGA 1155 Intel Z68
Memory: G.Skill Ripjaws X Series (2x4GB) DDR3-1600
Monitor: Acer G245HQABD 23.6″ LCD Monitor Black 5ms
Heatsink: Cooler Master Hyper 212 EVO
PSU: Corsair Enthusiast Series TX650 V2 650W
Case: Cooler Master HAF 912 Black Mid Tower ATX Case
Headset: Turtle Beach Ear Force X12 Gaming Headset
HDD: Western Digital Caviar Blue 500GB
Mouse: Logitech MX518
Rig #3 (Kevin)
CPU: AMD Phenom II X4 940 3.0 GHz (stable overclock to 3.38 GHz)
GPU: MSI N250GTS Twin Frozr GeForce GTS 250
Motherboard: MSI 790XT-G45 AMD 790X ATX
Memory: Kingston HyperX 4GB (2x2GB)
Monitor: Dual 20″ LG + 17″ Dell
Heatsink: Cooler Master Hyper N 520
HDD: 2x Samsung Spinpoint F3 1TB (RAID 0)
PSU: Corsair Enthusiast Series CMPSU-650TX 650W
Case: Antec Nine Hundred Black Steel ATX Mid Tower
Headset: Turtle Beach Ear Force X12 Gaming Headset
Mouse: Logitech MX518
Rig #4 (Bob)
CPU: AMD Phenom II X4 975 Processor 3.62 GHz
GPU: EVGA 01G-P3-1460-KR GeForce GTX 560
Motherboard: Gigabyte GA-970A-UD3 AM3+
Memory: G.Skill Ripjaws Series 8GB (2x4GB) DDR3-1600
Monitor: Acer G245HQABD 23.6″ LCD Monitor Black 5ms
Heatsink: Cooler Master Hyper N 520
HDD: Western Digital Caviar Blue 500GB
PSU: Antec BP550 Plus 550W
Case: Antec Three Hundred
Headset: Turtle Beach Ear Force X12 Gaming Headset
Mouse: Logitech MX518