Battlestations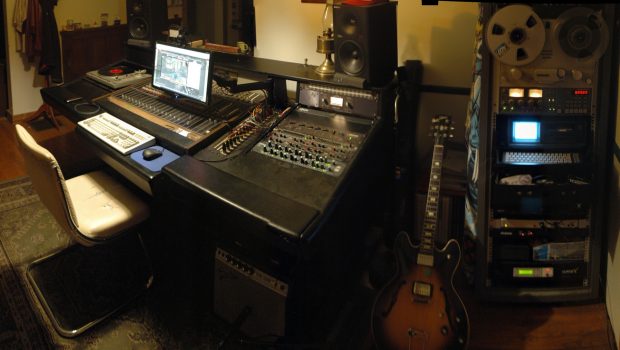 Published on September 7th, 2012 | by KBMOD Community
9
Bro Cave: Sean
This week's bro cave comes to us from our behind-the-scenes technician and resident chief audiophile, Sean. If you're into music, brace yourself. It takes a lot to make me jealous of another nerd's workspace, but Sean's setup has done it in spades. Make sure to click through the gallery below to see all the pictures!

Hey kiddos, Sean here, one of the behind-the-sceners here at KBMOD. Though I'm not really into making videos or anything crazy like that (yet), I do love PC gaming. I also play guitar and record bands at my house, and have obsessions with retro aesthetics. So, appropriately, I have a very different bro cave than what's usually seen here.
When I was about 9, my parents started letting me use the family Commodore 64, which I still have and occasionally play on (so I guess you could say I have always had a certain affinity for gaming with a keyboard). Not long after that, I started making my own games in BASIC…which is where I learned lots of terrible spaghetti-code programming techniques. Game-wise, I went from there largely into consololes and spent most of my high school and college years there, with one important exception: I played lots of DOOM 2, Warcraft 2, Duke Nukem 3D, and Descent on a LAN with a group of friends. We would usually either sneak in and play in the local college computer lab, or one friend would get us into his Dad's work's CAD lab at 2 AM. It was those late-night gaming sessions blasting oceans of Cacodemons together that planted the seed for my love of keyboard and mouse.
So, on to the bro cave itself:
My PC is a hodgepodge of new and old parts that I'm gradually upgrading. The case is actually an old 4U server rack chassis that was discarded from work (I work in an IT department). The chassis has two SATA drive bays with built-in cooling fans and a backplane that allows for hot-swapping (though I seldom do that).
Here are the rest of the PC specs:
PSU: Corsair HX850 (the pictures are out of date; I returned the 1050W when I realized it was way overkill)
Mobo: MSI P67A-GD65
CPU: Intel Core i7-2600K (overclocked to 4.2GHz)
CPU Cooler: Corsair H100, awkwardly mounted on the outside rear of the chassis
RAM: 16GB Corsair DDR3-1333
HDDs: 4x Seagate Barracuda 7200RPM (1.5TB, 1.5TB, 750GB, 750GB)
GPUs: 2x Nvidia GTX 560 Ti (SLI) – will probably look into getting a 670 before too long
Audio interface: Echo Audio Layla 3G, linked via Lightpipe to an Alesis AI3 (allows me to record 16 channels of high-quality audio at once)
Keyboard: IBM Model M (I will only ever use these, I love their loud mechanical keys and no-frills layout. They annoy the shit out of anyone else who's in the room.)
Mouse: Logitech G9x
Controlololer: SNES controller with a USB adapter… love this for emulators.
Monitor: ViewSonic VA2231wm (22″) suspended on a VESA swivel-mount
Webcam: Some crappy old Logitech thing I found in a box of junk at work
In addition to the PC, there is some other gear that graces the cave:
Speakers: Mackie HR824's
Headphones: AKG K240M's (not pictured)
Mic: Shure SM7 (among others)
Mixer: The big mixer you see in the pics is an Auditronics 110 "grandson", originally a broadcast board from the early 80s. Came from a local radio station who sold it for $100. It has undergone a lot of upgrades and modifications.
Turntable: Technics SL-Q300 (direct drive)
Guitar: Gibson ES-335 (made in 1981)
Amp: Fender Vibro Champ, cranking out a whopping 6 watts (perfect for recording though)
Other miscellaneous stuff:
A random assortment of compressors, EQs and other hardware for music production
A TT/Bantam patchbay that I hand wired (for interconnecting gear on the fly)
A Commodore 64, of course… love making noise with it :)
A couple of reel-to-reel tape decks, one 2-track, and one 8-track
Oh, of course I should mention that I run only Linux! Arch Linux, to be precise. It runs maybe 70-80% of the Windows games I've tried, including: BL:R, CS:GO, CoD4, Torchlight, Skyrim, TF2, Bioshock, Hard Reset, and several others. The system is so streamlined that when I boot it up, it's only using around 500MB of RAM, leaving the rest for games and/or audio production software. I use both Steam and Desura to play a variety of AAA and indie titles.
Well that's about it, hope this wasn't too far out there!