Battlestations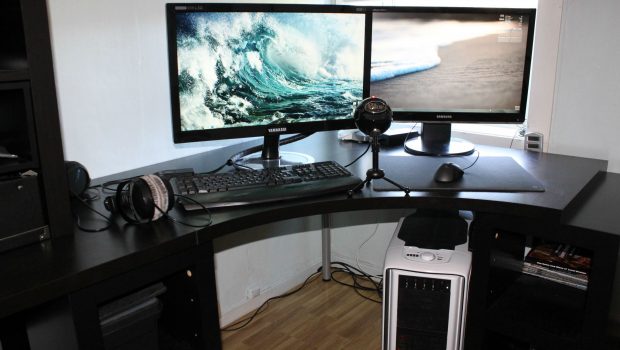 Published on October 12th, 2012 | by Brandon
9
Bro Cave: @Brokn9
This week's bro cave comes to us from Michael a.k.a. Brokn9, who represents KBMOD all the way from Norway. Michael is a serious gamer and audiophile who doesn't mess around when it comes to his PC. With a pair of GTX 570s, a rare Yamakasi Catleap monitor, and separate sound cards for music and gaming, what's not to love?
How did I get into PC gaming? When I was 4 years old, I got a Nintendo 64 and my world was filled with sunshine. A couple years later, when I was 6, my dad, my brother, and I went on a vacation to Legoland in Denmark. Now, the reason this is relevant is because, on the way to Legoland, we stopped by an internet cafe in Copenhagen where I played a Half-Life mod called Counter-Strike for the first time. I vaguely remember singing French over the mic on cs_italy and jumping around on a low gravity knife-only server.
I spent the next few years playing the Tony Hawk and Need for Speed series. When I was 9 or 10, the house got a computer and I spent the next 2 years on World of Warcraft, winning 1/200 Alterac Valley battlegrounds on the realm Burning Blade as a night elf warrior with the alias Greendragon. Good thing is that I learned some English and got the title Lieutenant Commander.
After that, I found a first-person shooter that looked a lot like the game I had played in Denmark: Counter-Strike: Source. I played that for a while and got on a pretty good team called eSata, which was well known in the Norwegian community. I've now moved on to Counter-Strike: Global Offensive, and its been a pretty bumpy road so far, but now it's pretty good.
Now, let's get to my PC specs:
CPU: Core i7-2600K, overclocked to 4.7 GHz at 1.385v (uses an uncomfortable amount of voltage at higher clocks, max temps are 72-78° C)
CPU Cooler: Corsair H100
Mobo: ASUS P8Z68-V PRO/GEN3
RAM: 8GB Corsair Vengeance DDR3-1600
GPU: 2x EVGA GTX 570 1280MB (SLI)
PSU: Corsair HX850
SSD: Crucial M4 128GB
HDD: 2x WD Caviar 2TB, 1x WD Caviar Blue 500GB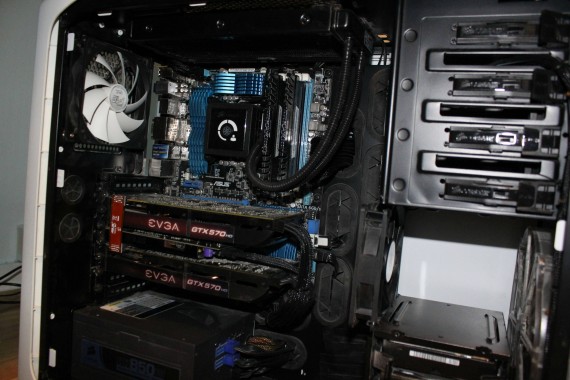 Oversized memory stick: WD Elements 10EAVS 1TB
Sound Card (Music): Asus Xonar Essence ST–currently using 4 mono LME49990 opamps, which are connected to 2 adapters, making them stereo
Headphones (Music): Beyerdynamic DT770 80 ohm (amazing bang for the buck)
Sound Card (Gaming): Creative Sound Blaster X-Fi SB1090
Headset (Gaming): Roccat Kave 5.1
Microphone: Blue Snowball
Keyboard: Logitech G110
Mouse: Logitech G400
Mousepad: Mionix Sargas 460
Monitor 1: 27″ 2560×1440 100Hz Yamakasi Catleap Q270 2B Extreme (obtained via custom batch order through 120hz.NET)
Monitor 2: 24″ 1920×1200 60Hz Samsung Syncmaster 2493HM
And for my case, the all-popular white Corsair 600T. I'm actually pretty surprised at how many Corsair products I own.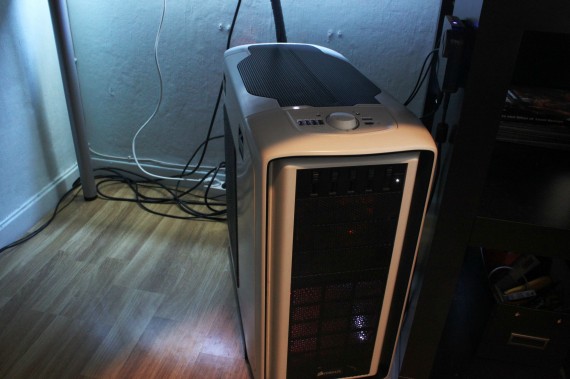 I've tried my best to keep from buying one or two 660 Ti's or 670s, and it's been going pretty good so far; I'm planning on picking up a 760 Ti or 770 when that comes out. I might buy another Korean Catleap or two, but there are so many driver issues and card issues because of the insane amount of bandwidth needed for a 2560×1440 @ 100-130Hz. The monitor is 60Hz by default, but a custom monitor driver and a Nvidia bypasser allows you to overclock it to a higher refresh rate via the Nvidia control panel or PowerStrip. But I'm beyond happy with it, can't really complain too much about an IPS panel with that resolution and refresh rate for only $555.
About the audio, I'm tip-tapping between the crisp mid tones from the 49990 opamps and the punchier texturized bass from the 49860, which is just a cherry picked 49720/4562, if I remember correctly. Its very nice to be able to swap them easily, so I applaud Asus for that. I was considering changing the crystal too, but I've read it's a lesser improvement on the ST compared to the STX, so I'm probably not going to do that. It looks pretty badass though.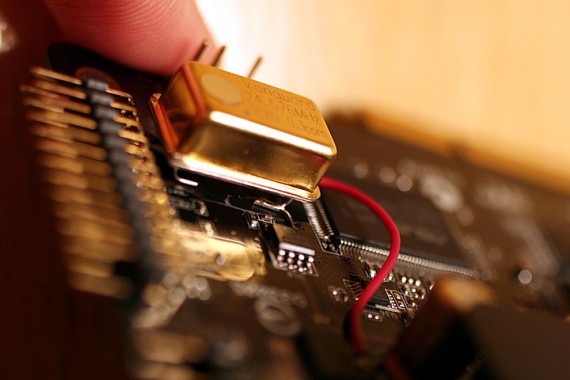 I really need to find a nice picture or poster to put up on my empty walls, all I really have is this above my shelf: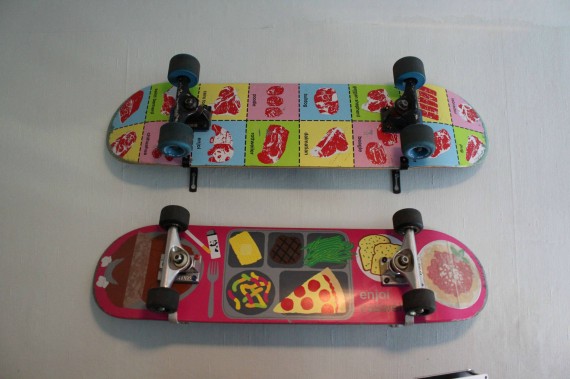 Finally, let's end with a picture of what happens when I leave my chair and open my door…