Battlestations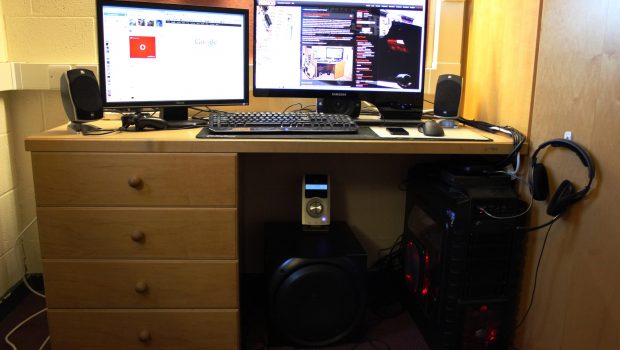 Published on November 30th, 2012 | by Brandon
5
Bro Cave: @MurrayBateman
This week's bro cave comes to us from Murray a.k.a. eSTeeM, who hails from the historic county of Lincolnshire, England. Not only does he have a sweet gaming setup, but he also has a great story about his love for PC gaming, which has ultimately led him to study computer game design at his university!
Gather ye round children, for I hath a tale. It all starts in 1991; my mother gives birth to a baby, not knowing he is soon to become obsessed by all things technological. I think if she had known then what she knows now, I'd have been swapped in the hospital when no one was looking, and my parents would be about a million pounds richer with the money they would have saved from electricity bills.
In fact, what am I saying? It's my parents' damn fault. They went and bought me a Sega Mega Drive, along with the ridiculously addictive games that Sega had to offer. So yeah, #BlameParents, #BlameSega, #BlameEarthWormJim and #BlameSonic. Not that I'm resentful by any means. I love everything gaming, and I am so glad that I'm not one of those guys that looks down their nose at cave dwellers because they don't appreciate the beauty of our world. Where was I? Oh, yeah, Sega. So that little blue hedgehog stole months of my life. I'd wake up at 7am and play all the way through to 10pm–the lack of a saving option wasn't going to stop me (in fact, saving just made it worse).
Playstation 1 next, and the million-disc Final Fantasy games were the sponges that soaked up my hours. Of course, the standard incredible PS1 games were also in my library: Crash Bandicoot, Spyro, Tekken, Metal Gear Solid, and more. The story is much the same with the second-gen Playstation: school all day, games all night at volume level 5 on my TV so my parents wouldn't hear.
Then, in 2007, something incredible happened. It was called Counter-Strike: Source. My life changed. I had the worst home PC in the world, produced by tech geniuses at Dell, and the 30fps, although fantastical, just didn't suffice… so a year later, I decided to build. Cut away to one of those scenes with me in trousers, an apron, and a welding mask, sweating, illuminated by hot coals and smashing hot iron on an anvil.
The result was a speed demon with a Q6600 and 9800 GTX+ that just guzzled up everything CS had to offer. Over the years that followed, my love for PC gaming only grew. Call of Duty, Counter-Strike, Battlefield, Quake… the list goes on. Yeah, it's almost entirely FPS, but when you have the attention span of a gnat, fast-paced FPS games really do it for you. That said, I would play everything at least once, so more and more of my life went into the PC, rather than the PS3 I had since bought.
Over the last 4 years, I have been updating and amending my build constantly, and in January of this year, once I had confirmed my place at Uni on a 4-year Computer Games Design course, I decided to opt for a major overhaul to future-proof it.

For those who love to talk specs, great, 'cause so do I!
My PC Setup
Case: Cooler Master HAF X
Mobo: Asus Sabertooth X79
CPU: Intel i7-3930K
CPU Cooler: Corsair Hydro H80
GPU: 2x MSI Nvidia GTX 670 in SLI
RAM: Corsair Vengeance 16GB DDR3-1600
SSD: Corsair Force GT 128GB
HDD: Western Digital Caviar Black 2TB
Sound Card: Creative Sound Blaster X-Fi Titanium
PSU: Corsair AX850 Gold 850W
Peripherals
Main Monitor: Samsung S27A950D 27″ 120Hz 1920×1080
Second Monitor: Asus VW222U 22″ 60Hz 1680×1050
Keyboard: Razer BlackWidow Ultimate
Mouse: Razer DeathAdder (3500 DPI)
Headset: Sennheiser PC 360 G4ME
Speakers: Logitech Z-5500
Webcam: Microsoft Studio HD 1080p
PS3 Setup
Console: PS3 Slim 320GB
TV: 42″ Panasonic Viera TX-P42S20B 1920×1080
Headset: Astro A40 w/ Mixamp
Recording: Blackmagic Intensity Pro
By the way, I know about the cable management, but as I said, I change the parts in my PC so often it's not worth spending hours slaving over making it look good. However, as I'm not planning on updating it any time soon, I may opt for a complete disassemble and rebuild over the holidays.
And here's a closer picture of my desktop setup at my Uni digs: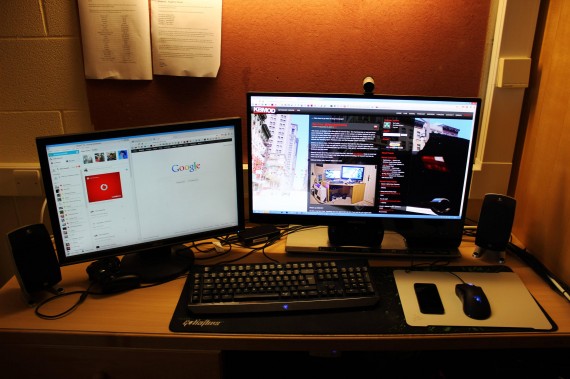 So this is where I am at right now. I am so happy that I got, first and foremost, into gaming itself, but especially PC gaming. PC gaming is the reason I am now studying Computer Games Design at University, and I'm loving every second of it.
I thank the stars that there is a place like this where people can come and help the community thrive and grow, so thanks again KBMOD, and thanks to you who has just read this. I hope it was as enjoyable reading it as it was writing it. Now, get to your PC and get gaming!