Battlestations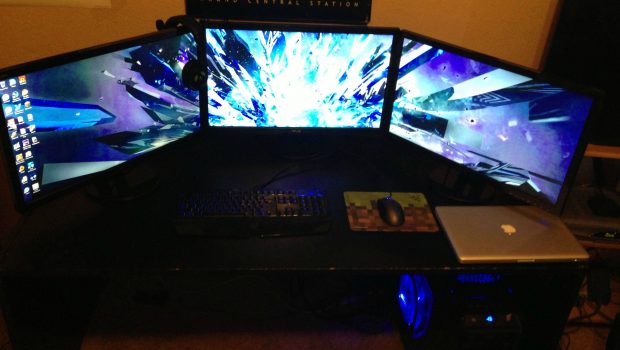 Published on March 22nd, 2013 | by Jonathan Beck
3
Bro Cave: Tonyisgaming
Each time we do these caves, they get crazier and crazier. This weeks is no exception. Tony of Tonyisgaming has built an absolute beast of a machine. With 32GB of DDR3, a GTX670SLI setup, Dual SSDs, and 2 TB of storage, it's a gamers, and content producers dream. Add in the triple monitor setup, and he's almost got me jealous. Head below to check it out and make sure to submit your own in our forums.
What's up bros, new to the KBMOD Forums but not new to KBMOD. Thought I'd get in on the forums by starting off with my new Bro Cave I just finished.
Before we get started… Don't hate on the MacBook Pro, it's a $2400 beer coaster.
Featured above is the full desk setup:
-3x ASUS VE278Q/H's 27″ LED Monitors
-Razer Lycosa Mirror Edition Backlit Keyboard
-Razer Imperator 6400 DPI Mouse
-The one and only Minecon Minecraft Razer Mousepad.
-Turtle Beach X12's, which I need to upgrade.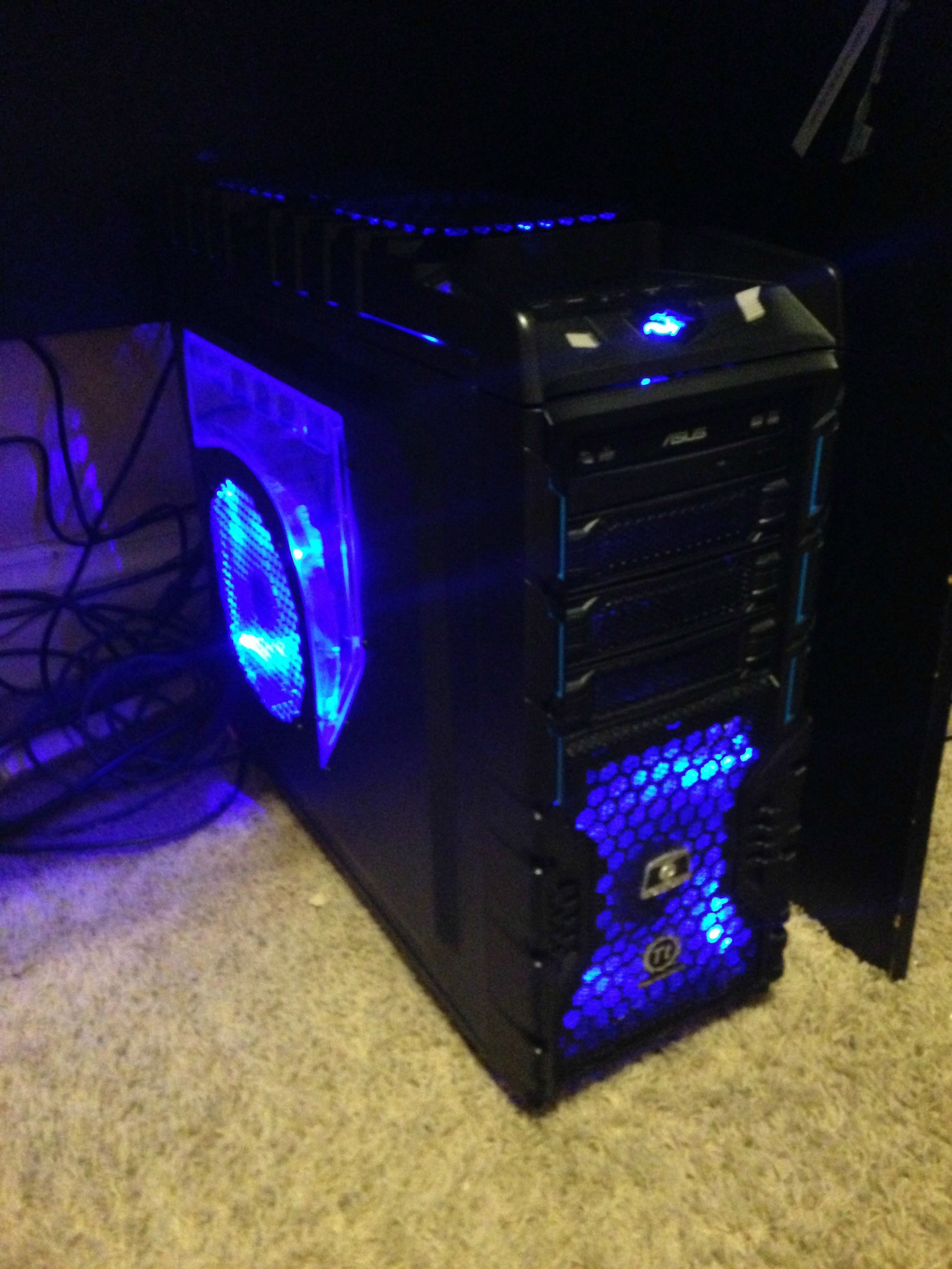 There's the machine running it all:
CPU: Intel 3570K (OC'd to 4.2 GHz)
RAM: 32GB Patriot Viper 3 @ 1600 MHz
PSU: Cougar CMX 1000W 80 Plus Bronze Modular
SSD1: Intel 330 120GB for Windows
SSD2: OCZ Vertex 240GB for Recording Gameplay
HDD1: Western Digital 1TB Green for Storing Gameplay
HDD2: Western Digital 1TB for Games and other Programs
and finally…
GPU:2x EVGA GTX 670 4GB SC+ (OC'd to 1150 MHz GPU/6250 MHz VRAM)
Finally a shot from my point of view.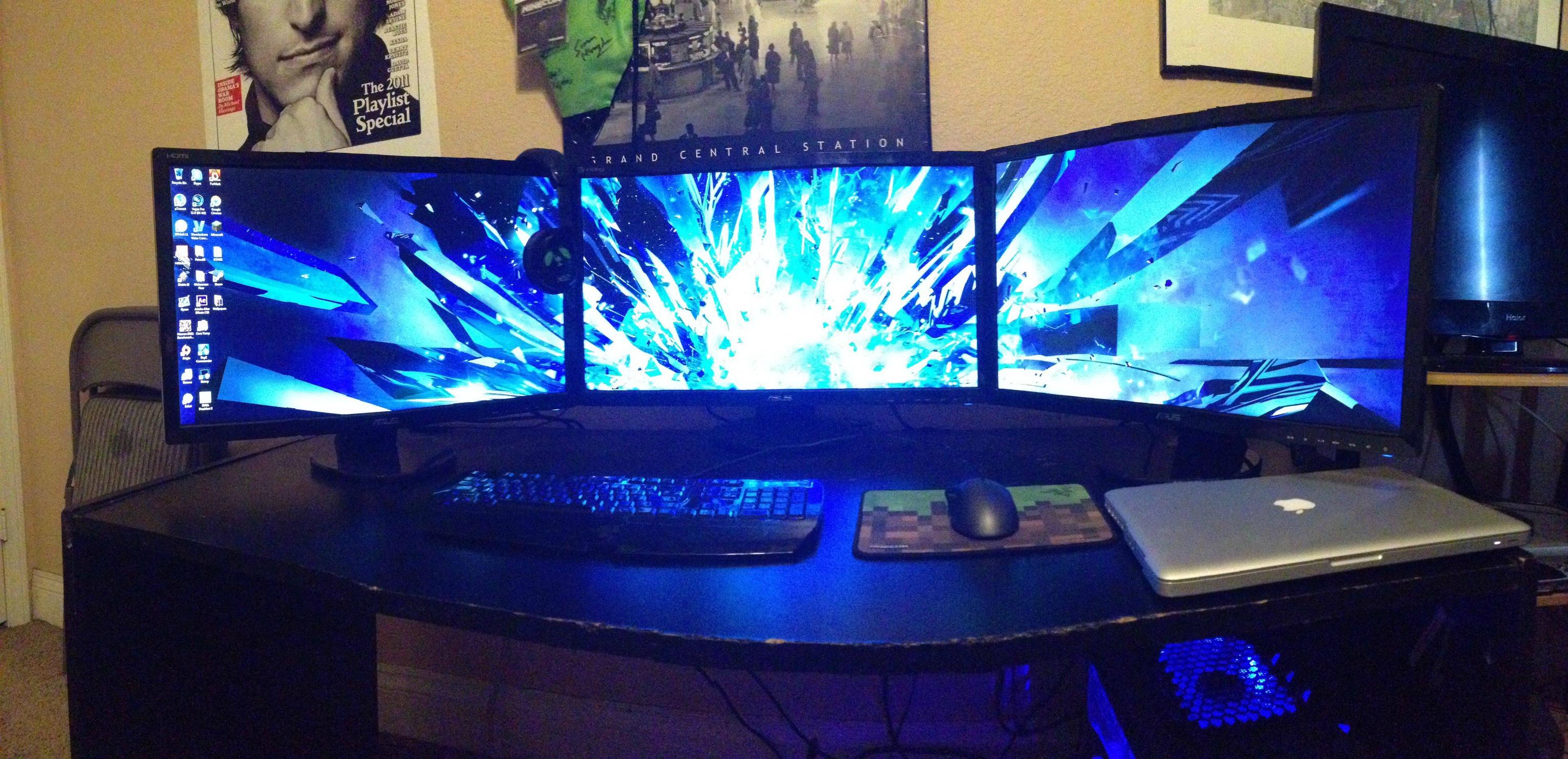 So there you go, that's my Bro Cave I just finished. Put a dent in my wallet, but a smile on my face. Happy to be part of the KBMOD Forums, now I will find something else to post!
-Tony of Tonyisgaming