Battlestations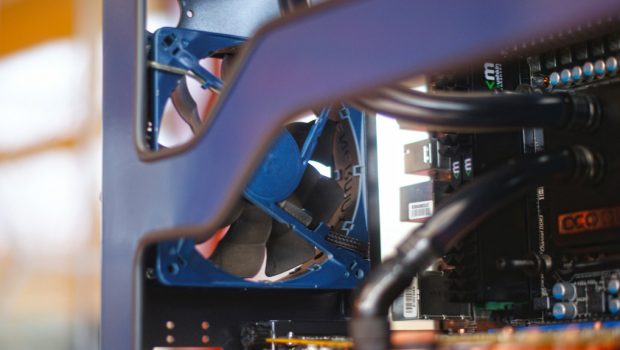 Published on April 5th, 2013 | by KBMOD Community
3
Bro Cave: Pexon
This week we have what may be one of the prettiest builds we've featured. Sadly, Pexon from our forums hasn't told him much about himself or his gaming habits. The rig is so beautiful though we have to feature it anyways. Utilizing a rarely seen Sandy Bridge – E Quad core processor, a custom watercooling loop and a custom paint job, this one is going to make you jealous.
Hey everyone, here's my rig.
Lian Li PCA70F (BMW Topaz Bue/ Sparkling Graphite)
Intel i7 3820 @ 4.8
MSI X79 GD45
Mushkin Ridgeback 16GB OC'd @1866Mhz
ATi 7970 @ 1150 clock/ 1575 memory
Silverstone Strider 750W Gold
Samsung F3 1TB
OCZ Agility 3 60GB
Laing D5 w/ Alphacool top
2x XPSC 240mm rad
1x Alphacool 240m rad
Alphacool 7970 block
Alphacool NeXXXos CPU block
Enermax Cluster fans
Alphacool rotary fittings and barbs
Mayhems Oil Black Coolant
Hopefully Pexon will see we've featured his rig and reach out with a little information about himself and his build! We'll be happy to update the post once he does.