Battlestations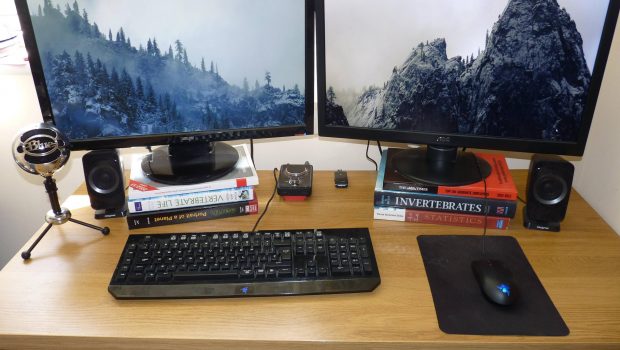 Published on May 31st, 2013 | by Jonathan Beck
1
Bro Cave: GeorgeyBeats
This weeks Bro Cave comes to us via our IRC Resurrection wizard GeorgeyBeats. He kicked off our new channel and it's firing on all cylinders. While not the latest tech, he has the classic gaming power rig of the Sandy Bridge generation. A super overclocked i7-2500k, a 560Ti, and the full kit of Razer peripherals makes his rig ready for gaming and even the power hungry IRC clients of today. 
Good day all. I have been around for a reasonable amount of time, listening to the podcast since the start and frequenting the website just as long. This year I have tried to become more active within the community and I feel it is about time to show off my very own bro cave.
The Beginning
My journey into PC gaming begins a long, long time ago in the rural countryside of England, where I grew up on a farm in the middle of nowhere. With no town around for ten miles, I spent most of my early childhood pestering my dad and grandfather around the farm and playing outside in the garden. Then came the introduction of internet in our household, which we only got when I was 9 years old, around 2001. We only had one computer in the house and that was mainly for work, however it came with a sleeve of games and I can remember trying to play Total Annihilation, possibly my favourite game to this day, along with Red Alert. I was rather young and it was fairly complex but I enjoyed it nonetheless. Like most of the youth in the UK; I then switched to the console with PC gaming still being rather niche (and costly!) at the time. I moved up the ranks, from the original playstation, to the PS2 and then to the Xbox 360, however I was rather late to the Xbox 360 party, as once again, the internet held me back and I didn't feel the need to get an Xbox 360 till we had broadband in our household in 2007. I spent most of my pre-broadband time on RPG's with Final Fantasy 7-10 being my major time sinks and I dread to think how many hours I put into all those games combined but all that time certainly wasn't wasted. I then jumped on the Call of Duty bandwagon when it was at its peak, playing online with friends in CoD 4, World at War and MW2.
Then when I hit 18, I became more interested in computers. I had a laptop that I took to university (a macbook pro at that!) and I played mainly starcraft 2 on it and FIFA on Xbox during my first year. Then I got sick of being teased by the steam sales and the lure of amazing graphics and saved up to build my first computer, which is still with me in one form or another to this day. Naturally, before building, I watched hours of youtube videos on how to build and pestered the guys for tips on what to buy and well as trawling pcpartpicker for months before deciding on what I actually wanted.
Now on to the juicy part, my rig and setup. I have wires everywhere as I have to relocate between home and university every 3 months and my whole setup comes with me, so things below are left as they are. Since my first build, I have only added an SSD and a new graphics card after my old one failed, everything else has been with me since the start. My peripherals have been updated more frequently than my rig, with an extra monitor being purchased around a year ago and some basic speakers just to get me by. My keyboard was also in a Christmas sale at about half price, going mechanical has been a godsend, not only in gaming but also for University report writing and I would definitely recommend it to anyone!
The Specs
Rig
CPU: Intel 2500k @ 4.3 Ghz.
CPU Cooler: Xigmatek Gaia.
Motherboard: Gigabyte GA-Z68A-D3-B3.
RAM: 16 GB Patriot IEM Edition @ 1866.
PSU: Xigmatek NRP 500w.
GPU: Asus GTX 560 TI Direct CU.
HDD: Seagate 1Tb.
SSD: Kingston HyperX 3k 128 GB.
Case: Coolermaster Storm Enforcer.
Peripherals
Monitors: 1. Asus 242h.
2. AOC i2352Vh.
Monitor Stand: University books.
Speakers: Creative Inspire T3130.
Keyboard: Razer Blackwidow.
Mouse: Razer Abyssus.
Mousepad: Razer Kabuto (It's beginning to feel too small for my needs)
Headphones: Astro A30's with Mixamp.
Mic: Blue Snowball Aluminium.
Webcam: Microsoft Lifecam Studio for business.
Desk: Ikea's finest £25 shindig.
Upgrades
In the future, I will probably look at upgrading along with the releases of the Intel haswell chips and the next generation of graphics cards, whether that will be Nvidia or AMD, I will just see what the general consensus is when they come out. I may also change my case, purely as it is too big for my needs and if I could downsize to something less bulky, which would be ideal for lugging it between my areas of residence, I am just on the lookout for something in a sale that I like the look of, at the right price.