Battlestations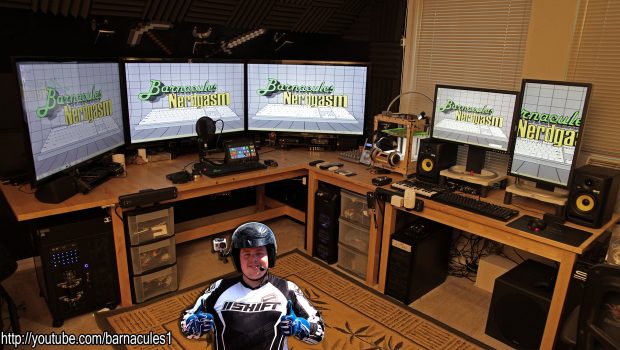 Published on May 10th, 2013 | by KBMOD Community
4
Bro Cave: Barnacules
I don't even know how to intro a cave like this one. This week, Barnacules puts previous caves to shame, and has enough monitors to make even me drool. Add in a complete racing simulation rig, a Hex Core 3930k and SLI GTX680s and you can push any game you want to its limits. Not only that, but with a 3D Printer in the mix there is little you can't do in this office.
Whats up fellow nerds
My name is Jerry (AKA: Barnacules) and I am the producer of the Barnacules Nerdgasm channel on YouTube. Today one of my Twitter followers mentioned this site and said I should put my Bro Cave up on this forum and it sounded like a lot of fun. Well here I am and I hope you guys enjoy what I have done with the place. I look forward to reading your comments and making some new friends!

Main Computer Details
The main machine is a hex core i7 3930k on liquid at 4.7ghz per core with 32gb DDR-2366 and twin 256gb SSD in Raid 0 with 4 720 WD Blacks in Raid 5 for content. It has duel 680 GTX FTW+ graphics cards in SLI and a ASUS Xonar STX sound card piped through a Mackie 802-VLZ3 into my Logitech Z-5500's and Beyerdynamic MMX-300 headphones. The build is in a CaseLabs M10 case with extended top for twin 360 black ice radiators with an external reservoir on the front just to look different.
Peripherals
I have a dasKeyboard Model S Silent mechanical keyboard with cherry MX brown switches which I absolutely love. Once you go mech you never go back! I use a Razor Imperator BF3 edition mouse since it's very light weight and I love the feel. I also have a Belkin N52te I rarely use and a Connexion 3D Space Navigator which I use when I'm 3D modeling. I also have a Microsoft Surface RT tablet positioned in front of my keyboard for chatting when I'm live casting and as another display when I'm in games.
I also have an XBOX 360 w/ Kinect sensor and a XIM edge with a USB switch to connect my keyboard and mouse to the XBOX for playing FPS games, it works really well. For broadcasting and recording I have a Audio Technica A2020 microphone hooked to a ART Tube MP microphone amp which then goes into my Elgato Game Capture HD to merge the audio with video (only the center screen). I have tons of other little peripherals but nothing else really worth mentioning, if you see something in the pictures just ask about it.
3D Printer
I recently have really been getting into 3D printing so I purchased an Ultimaker 3D printer that can print in PLA or ABS and I have tons of videos on my YouTube channel showing it printing stuff. I also had a 3D scanner but I returned it because the resolution was horrible and it had too many problems. I'm in the market for a better 3D scanner if anyone knows of one? This printer has a 9x9x9 inch build volume and is actually pretty fast by 3D printing standards (which means it's still very slow).
Other Computers
There are 2 other towers in the Man Cave. One is a server I used for hosting hyper visors for various tasks and the other computer is the music/video station from the picture above. They range from first generation I7 to Core 2 Duo and have good specs but nothing compared to the beast machine at the heart of the cave. I also have a netbook and a home server in the cave for keeping data backed up and I also have another home server under the staircase with a 14tb redundant array on it. I didn't post a picture of that since it's technically not in the cave.
The editing station has two KRK-Rokit 5 studio monitors connected to a ProFire 610 Firewire audio interface which I really like. I also have some peripherals for audio editing, etc so if you want more information just let me know!
Gaming Stuff
My simulator setup for racing is an Obutto R3volution game cockpit with a Thrustmaster T500RS wheel and Fanatec Clubsport V2 pedals. I also have the TH8 shifter mounted for both sequential and H-pattern shifting. I modded the wheel to have a real Sparco steering wheel out of a car to make it feel more realistic.
For flight simulators I have a Logitech G960 flight system which I use with Flight Sim X when I have time to play it. I also have the T500RS original pedals which I no longer use but I keep on hand as a backup in-case I have problems with the Fanatecs.
Printing
For my little print center in the man cave I have an HP LaserJet 5MP that is older then the hills that I absolutely love and will never give up! And next too it I have an all-in-one Epson 610 Workstation.
Other Stuff
I also have a fully stocked mini fridge with booze and energy drinks, however I don't drink the energy drinks anymore (kidney stones). I have a comfy reclining love seat on the far side of the cave for friends to hang out on or if I just want to watch a movie or play some XBOX with a controller. The heat generated from all the computers and power requirement of the room required me to install 2 additional 20amp circuits to the Man Cave and a 15,000 BTU dedicated window A/C unit to keep the room at a constant 68 – 70 degrees even on the hottest day in summer.
I'm sure I missed tons of stuff but I wanted to get this posted since I'm having a lot of fun taking the pics and doing this write up. It's hard sometimes to find other like minded individuals that understand why someone would do something like this. But I have a feeling I will be calling this place home moving forward since I've seen some other amazing setups on here!
Thanks for reading my post guys and I hope you get a chance to check out my videos on my channel and also come find me on Facebook and Twitter.
Twitter : http://twitter.com/barnacules
Facebook : http://facebook.com/barnaculesmancave
YouTube : http://youtube.com/barnacules1