Battlestations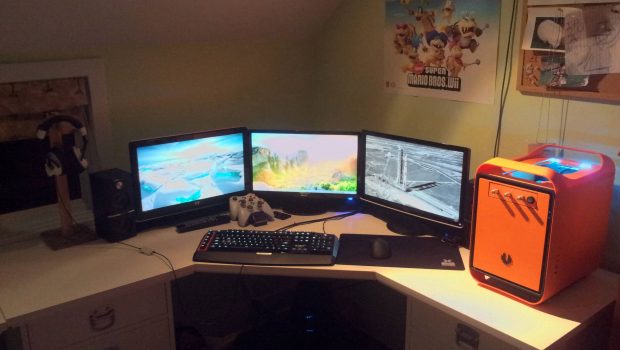 Published on June 21st, 2013 | by KBMOD Community
3
Bro Cave: Bob A Red Dino
This week's Bro Cave comes to us from community member Bob a Red Dino. He's got a lot of power crammed into the striking BitFenix Prodigy Orange case. An Intel i7-3770k, a GTX680, and a triple monitor setup make it a formidable cave. That much power in that little space is an impressive setup and definitely worthy of a spot in the hall of Bro Cave legend.
Background
I started my gaming days on a PS2, mostly playing Sly Cooper and Jak & Daxter. Around 2007 I got my first taste of PC gaming with RuneScape. From there I branched out to Xbox, which was almost exclusively CoD. I thoroughly enjoyed that with my friends for a few years. In 2011 I started playing Minecraft with a couple friends, just messing around on a server. That's what got me introduced to the heart of PC gaming: Steam. After Portal 2 came out, I decided my Macbook wouldn't cut it any more for gaming, and decided to build a rig and ditch Xbox. I've been periodically upgrading my PC, and a few weeks ago I decided I didn't like how bulky it was. I went for a Mini-ITX board and case. The Prodigy is a very modular and moddable case, so I went ahead and personalized it a bit. I added three knobs and a switch to the front panel, which control the colors of the RGB LED strip I added. Seems to have turned out pretty nice, what do you guys think?
The Specs
CPU: Intel Core i7-3770K
RAM: GeIL EVO Veloce 8GB 1600MHz
Motherboard: Gigabyte GA-Z77N-WiFi
Graphics: EVGA GTX 680 SuperClocked Signature 2
SSD: Samsung 830 128GB
HDD 1: WD Blue Caviar 320GB 7200 RPM
HDD 2: WD Black Caviar 320GB 7200 RPM
Case: BitFenix Prodigy Orange
PSU: SeaSonix X650
Keyboard: Logitech G710+
Mouse: Razer Deathadder 2013 Edition
Headset: Turtle Beach X11
Have a cave you want to show off to our community? Submit it in our forums for a chance to be featured on the main page!