Battlestations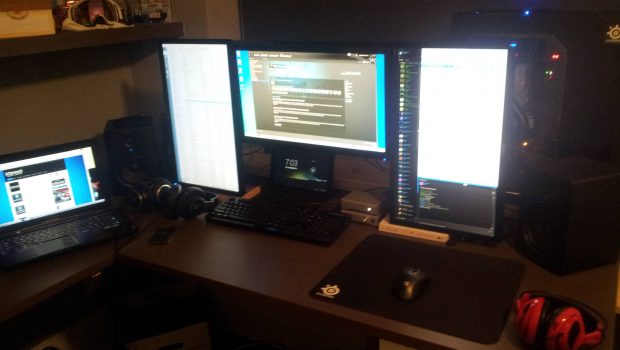 Published on June 7th, 2013 | by Jonathan Beck
4
Bro Cave: Redish Blue
This week's Bro Cave comes to us from our good friend Redish Blue. If you've ever gotten a blue plate special to the face from him in Tribes, now you know where it came from. Rocking the ever powerful i7-2600k, a huge 256GB SSD, and enough magnetic storage to hold a sizable section of the Library of Congress, it is a welcome addition to the hall of Bro Cave legend.
So I have finally decided to make a thread for my ever evolving bro cave. I just recently built myself a triple monitor stand out of some wood that was laying around the shed and it came out better than expected. I have also been going deeper and deeper into the world of audio equipment and have some new stuff to show off.
A shot of the full setup shows how sweet the new monitor stand really cleaned up my mess of a desk. All monitors are 23″ with the middle one being 120hz and the outside two just being crappy acer monitors. The computer is tucked in behind the screens along with all the cables and ugly stuff. I also just recently purchased the new Logitech G700s and couldn't be happier.
PC Specs
i7 2600k @ 4.4GHZ
EVGA GTX 670
8GB Corsair Vengeance
Asus Maximus Extreme IV
256GB Samsung 830 SSD
1 TB Caviar Black + 2TB WD Green + 640GB WD Blue
Corsair AX850
Antec 1200
My new found fascination with audio started with my old iPod classic and AKG 240 MKIIs. I have had both of these for years, but decided to rockbox my iPod and delve into the world of FLAC files. This led to the purchase of the Schiit magni and modi stack that you see under the middle screen. They are an entry level DAC and headphone amp that don't cost an arm and a leg, but still offer some serious performance. Next up was the purchase of AKG k550s so that I could have some isolation from my loud roommates. Finally I got fed up of not having any speakers and dropped some cash on a pair of M-Audio Bx5s.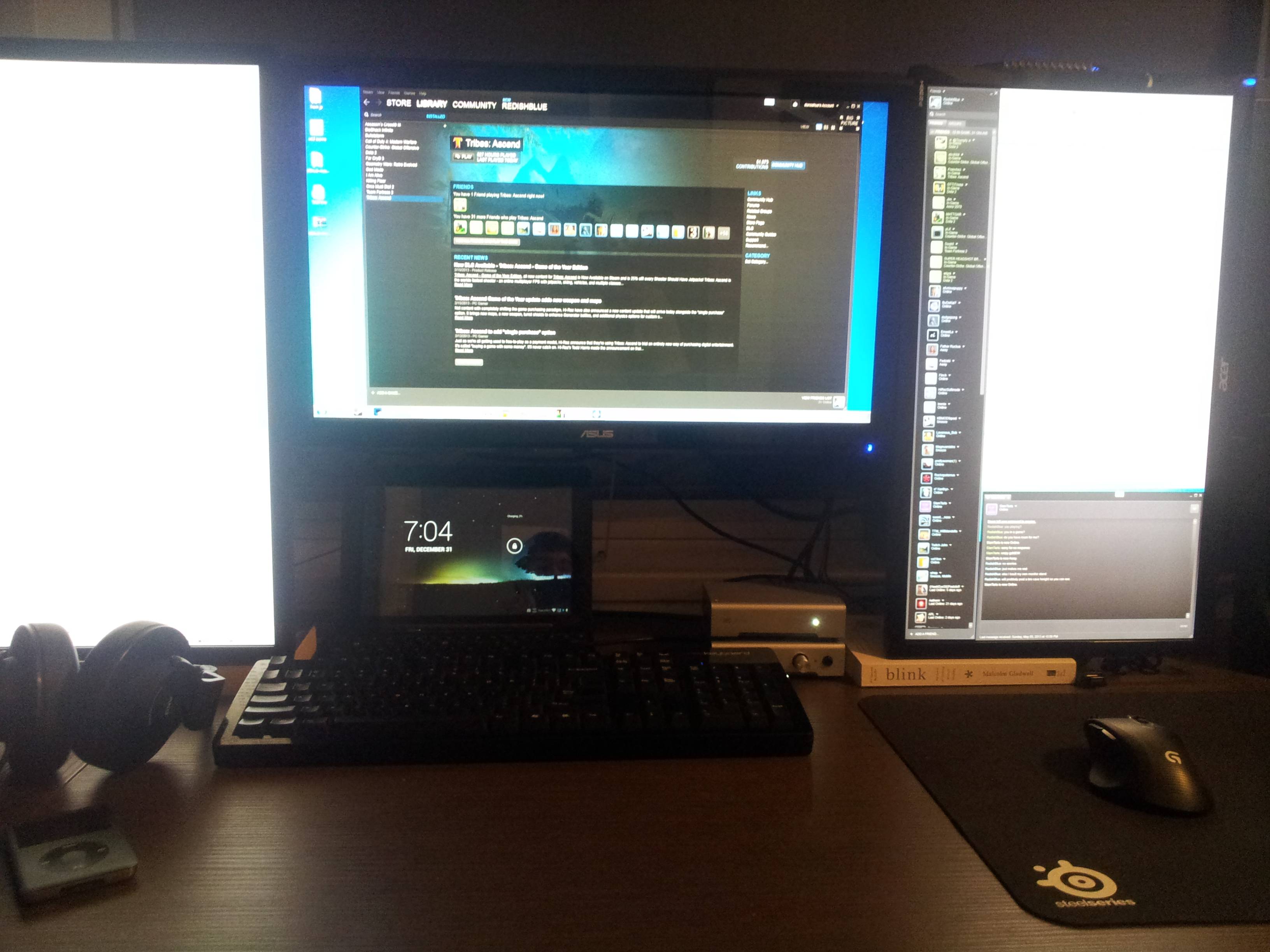 I also have a Lenovo Y580 for when I am out of the house and want to play a couple games of DOTA. Got it on sale and love the fact that it has a 1080p display instead of some pixelated laptop resolution. There is also an Asus Transformer under the display that I usually have twitter or a video playing on when I am at home. On the go it usually functions as an eBook or way for me to read my online textbooks. The only thing not in the shot worth mentioning is what I took the photos with which is a Samsung Galaxy Note.
Other Peripherals
Das Keyboard
Logitech G700s and G500
Corsair M60
Steelseries Siberia V2s