Battlestations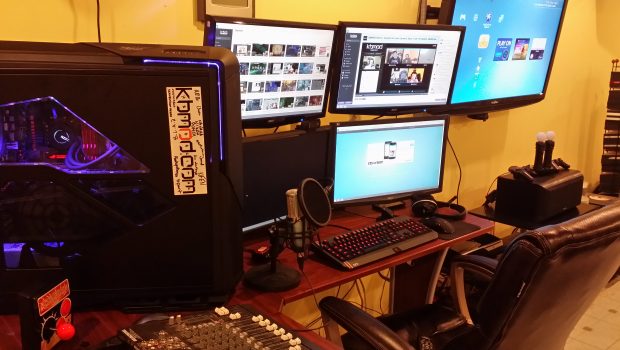 Published on December 6th, 2013 | by Jonathan Beck
2
Bro Cave: tweeknuts – Extra Life PC Winner
This week's Bro Cave is the landing spot of one of our Extra Life PC Giveaways! Community new comer and insane philanthropist tweeknuts ended up donating over $6,000 dollars to the event this year and walked away winning one of our gaming PCs. He was kind enough to send us a shot of its final location and a little write up about how and why he got involved with Extra Life!
The Specs
Case: NZXT Phantom 820 – Matte Black
Motherboard: ASUS Maximus V Formula Z77 Extended ATX Motherboard
Video: EVGA GeForce GTX 770 DUAL SuperClocked 2GB w/ EVGA ACX Cooler
PSU: NZXT HALE82 V2 700W ATX Fully Modular PSU
CPU: Intel Core i7-3770k
Cooler: NZXT Kraken X60 Closed-Loop Liquid CPU Cooler
RAM: 16GB G.SKILL Trident X Series DDR3 2400
SSD: Seagate 600 Series 240GB SATA III MLC SSD
HDD: Seagate Barracuda 7200.14 3TB 7200RPM 64MB Cache HDD
Optical: ASUS 24X DVD-RW
OS: Microsoft Windows 8 64bit
Hey guys. I would just like to thank you for this awesome PC! I got so excited I decided to buy more monitors! Here is my current setup up. I had to clean though but that's all good. Totally worth it! Thank you all again!
I never really started off much into gaming at first but was very interested in computers/electronics. I started ripping apart machines back in the Packard Bell days when I was like 8 years old!
Don't worry, gaming grew on me about 6 months later when I found a copy of Doom on floppy disks. That game was so amazing. I still remember the IDKFA and IDDQD days like it was yesterday. After Doom I definitely went into gamer mode. Begging my parents to get me a Sega Genesis and attaching the Sega CDS to it, Game Genie, Sega Channel. I was hooked.
Now to fast forward a bit even though I had plenty of friends outside of the house, I really enjoyed getting into the community based games (pixel friends). One of my friends introduced me to Twitch. I wasn't sure how I felt about it. I mean, nobody really cared to watch someone play a game for hours and hours IRL, but now sit at a computer and watch some play games willingly?! I gave it the benefit of a doubt and you know what, it was a great decision. Now I have some awesome friends just within the Twitch community and its definitely fun. A lot of the streamers play with their viewers which makes gaming 100X more fun!
After running into the "Internet Famous" crew they were doing some Extra Life stuff. I wasn't much of a donator at first but I changed my train of thought. "It's For Da Kids!". So I started off donating on Gassy Mexican's site around a month before the event. When the event started, I just want ham. It felt so good. That feeling of being in a gaming community and having fun but donating the money I didn't need to the kids. Not gonna lie, I never kept track. I only found out on Twitter when Bob posted an image of "a legend" to some of the Internet Famous crew that I was donating to. My name was all over it! So was the shocking amount I donated. You would think that was well enough but I didn't stop there.
Just before the 25-hour streams were over Bob emailed me and I legit though I was in trouble. "Oh no, the FBI will be here thinking I robbed a bank" or some crap like that. I had NO CLUE about the PC builds.  Here I am now with this amazing computer with a sticker that Hexidecimal claimed a large space of and the rest of the crew signed! Absolutely love this PC and love this community even more. Can't wait until next year. Not promising I'll be able to do what I did for next year since I'm living off Ramen right now but I'll do what I can! Good luck to everyone next year!  FOR DA KIDS!
While tweeknuts only provided us with one picture, if he decides to send some more along we'll update the post to give you a look at his entire setup!