Reviews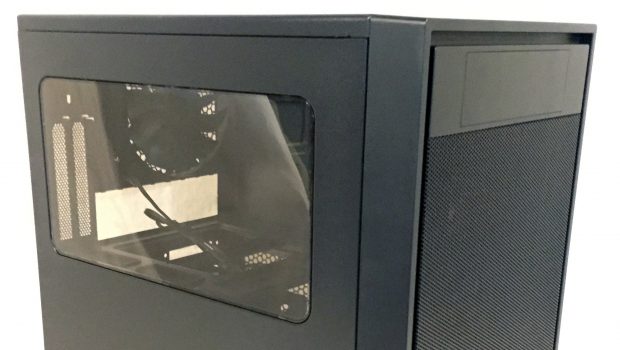 Published on May 13th, 2015 | by Bob
5
Review – Rosewill Neutron
Disclaimer: A review sample of this product was provided by Rosewill Product Name: Rosewill Neutron MSRP: $89.99

Specifications:
Form Factor Support
Mini-ITX Motherboard / Standard PSU
Case Materials
SECC Steel 0.7mm, Acrylic window
Dimensions (HxWxD)
15.35″ x 9.85″ x 15.75″
Weight
23.60 lbs
Cooling Options

2x Front 120mm or 140mm Fan

2x Top 120mm or 140mm Fan

2x Rear 120mm or 140mm Fan

Pre-installed Fans

2x 120mm Red LED Fans (Front)

1x 140mm Fan (Rear)

Features

Horizontally aligned motherboard

Removable HDD Cage supports 3x 2.5in or 3.5in drives

Magnetic Front Dust Filter

2x USB 3.0 / 2X USB 2.0, 3.5mm audio out / mic in

1x 5.25in bay
I can't do the Neutron justice in a review without first talking about the Mini-ITX platform overall, and the commitment from manufacturers such as Rosewill to its ecosystem. It's no secret that I'm a fan of this particular platform, and this is the first of many Mini-ITX-related reviews to come. It may not be for everyone, but the advances that we've enjoyed in technology in recent history have allowed us to shove more and more powerful components in to smaller spaces. The Mini-ITX platform has way more to offer than many might realize. Sure, there are some limitations that you'll run in to, but if you're in a situation where space is at a premium for one reason or another maybe you should take the time to evaluate if the platform could suit your needs. If you move around a lot (college students and those who rent rather than own come to mind), maybe you don't need that giant full sized tower after all. Maybe you've historically kept a crapload of data (yes, that's a technical term) on storage local to your primary desktop and you're reluctant to give that storage up – simple solution – try a NAS – thank me later.
There is a downside with this form factor, however – you're limited to a single expansion card. In our case for the purposes of gaming, that's always going to be a GPU. For everything else, you're going to have to rely heavily on USB (sound cards, capture cards, etc). Make sure you start with a feature-packed Mini-ITX motherboard if you're going to go down this route.
ON TO THE NEUTRON, THEN!
First Impressions & Aesthetics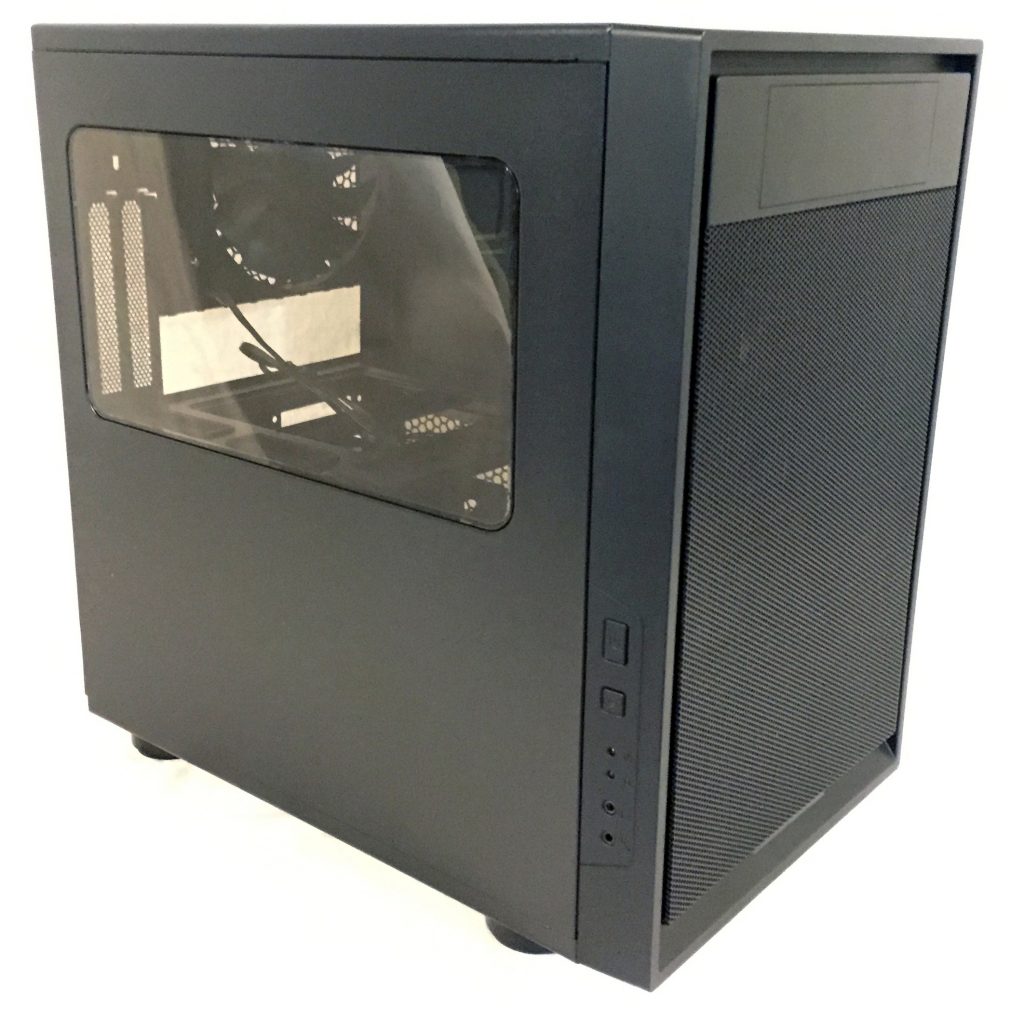 I think by now I've tipped my hand when it comes to design – I prefer function over form, or rather than function dictates the form – I like simple, utilitarian, maybe even minimalist designs. The Neutron is right in this category with clean angular lines, a well proportioned window, and a magnetically attached mesh dust filter are the only things breaking up the stark charcoal-colored SECC steel box. This case will fit in nicely, in a discrete/non-descript way, in practically any room.
Functionality & Performance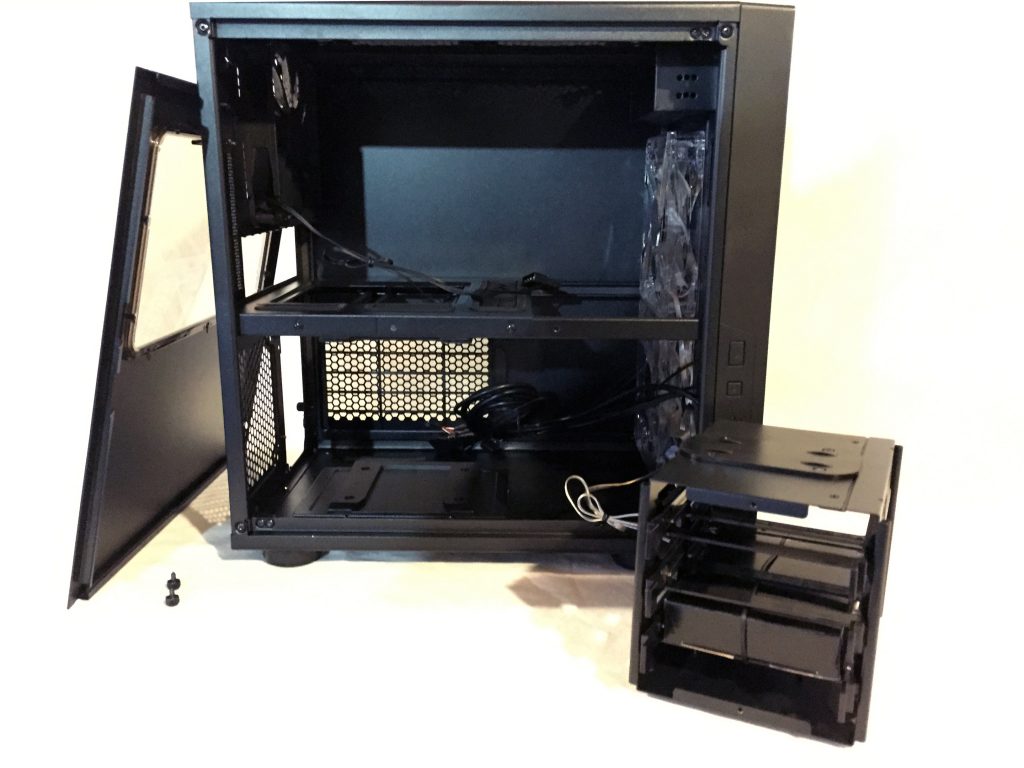 Right off the bat, I'm thankful for thumbscrews. I wish they were captive (lost one, found it an hour later!), but they're certainly better than having to reach for a screw driver to remove them. Popping off the side panel reveals the removable(!) motherboard tray, and removable HDD/SSD cage below. There really isn't any explicit cable management trays or paths here, but it's rather clean inside.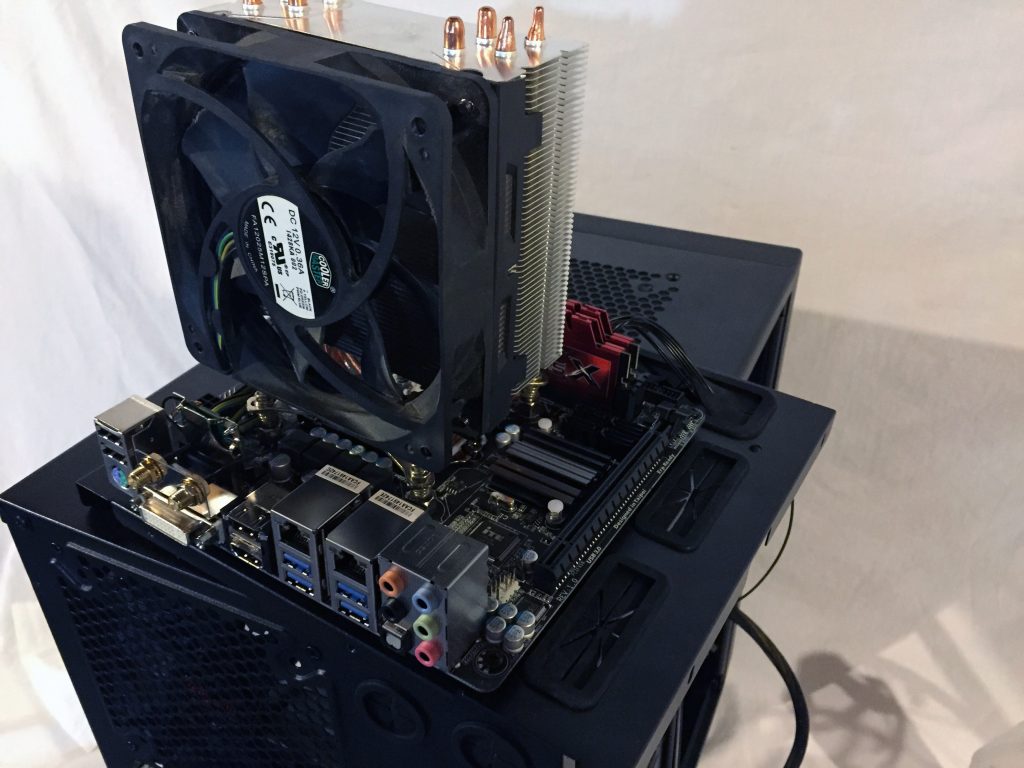 The Neutron is on the larger end of the spectrum for dedicated MiniITX cases at 15.35″ x 9.85″ x 15.75″ (around 1.3 cubic feet) and leaves plenty of room for any particular need that you might have. You could easily stuff a 240mm – 280mm radiator, pump, and reservoir in to it if watercooling is your thing. For those with (or hopes of buying) a closed loop liquid cooler, you'll find it just as easy to mount it at the front or top (up to 280mm) or back (140mm).
As I didn't have a spare closed loop cooler on hand, I decided to put the Neutron to the test with a very tall air cooler – the Cooler Master Hyper 212. You might be shocked to learn that it fit. Just barely. The heatpipes just touched slightly as I slid the assembled motherboard tray back into the case. Out of an abundance of caution, I decided to remove the screws from the two horizontal rails and drop them just a hair to give me that extra bit of clearance upon installation. It was pretty great that Rosewill made it so easy to do, actually. Just let that available vertical space sink in for a moment.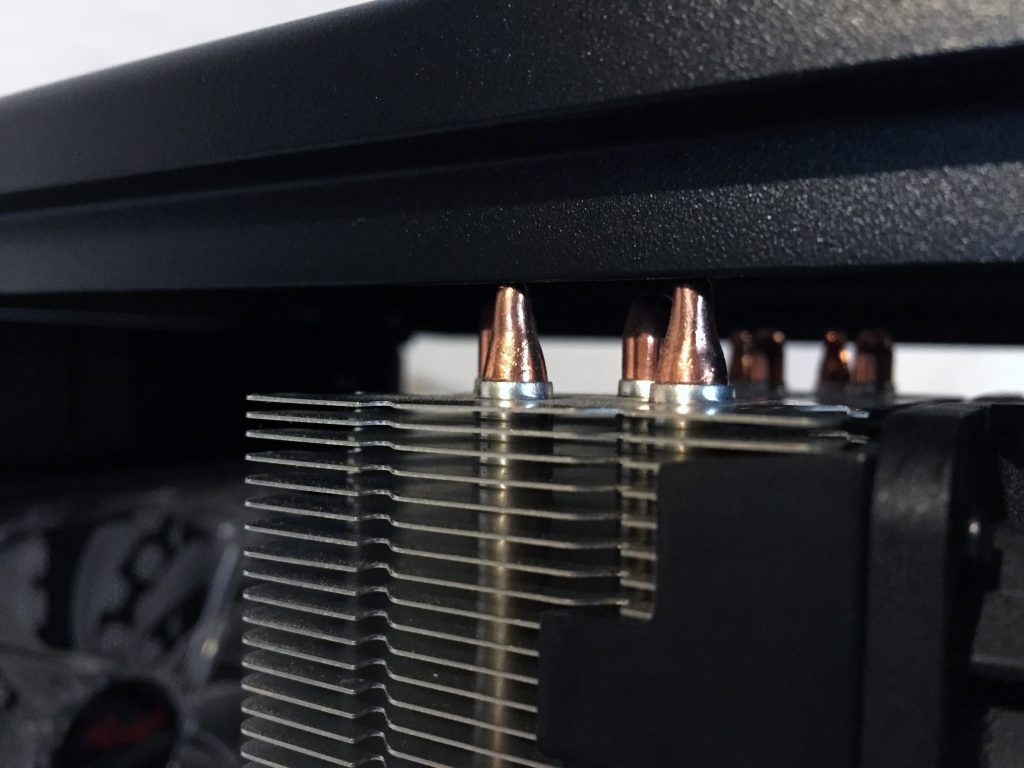 The Neutron can also accommodate even the lengthiest of GPUs. The longest at my disposal (which happens to be one of the longest on the market), is the Gigabyte GTX970 Gaming G1 at 12.28″ – as you can see below, it fits with room to spare.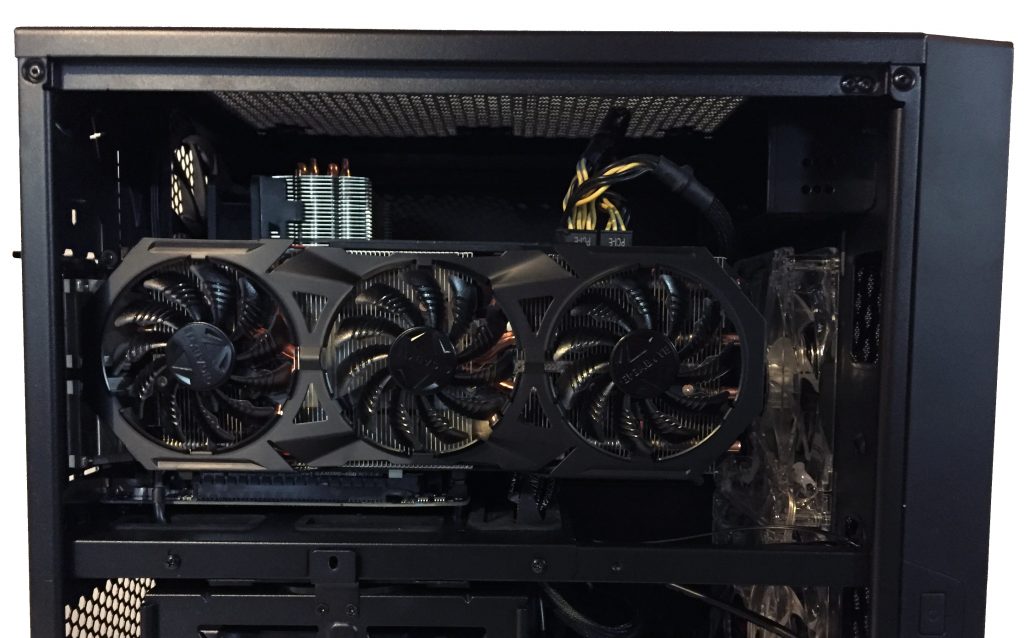 The removable drive bay below provides three trays to mount 2.5″ and 3.5″ drives, and sits just in front of a 120mm fan mount.
That leads us to the power supply bay, resting just beneath the motherboard tray, and behind the drive bay. A rear frame for the power supply is provided, and used to guide the power supply into the appropriate position, with the fan facing the vent of the right panel. As the bottom portion of the case is entirely open, there is no length restriction for a full sized ATX power supply.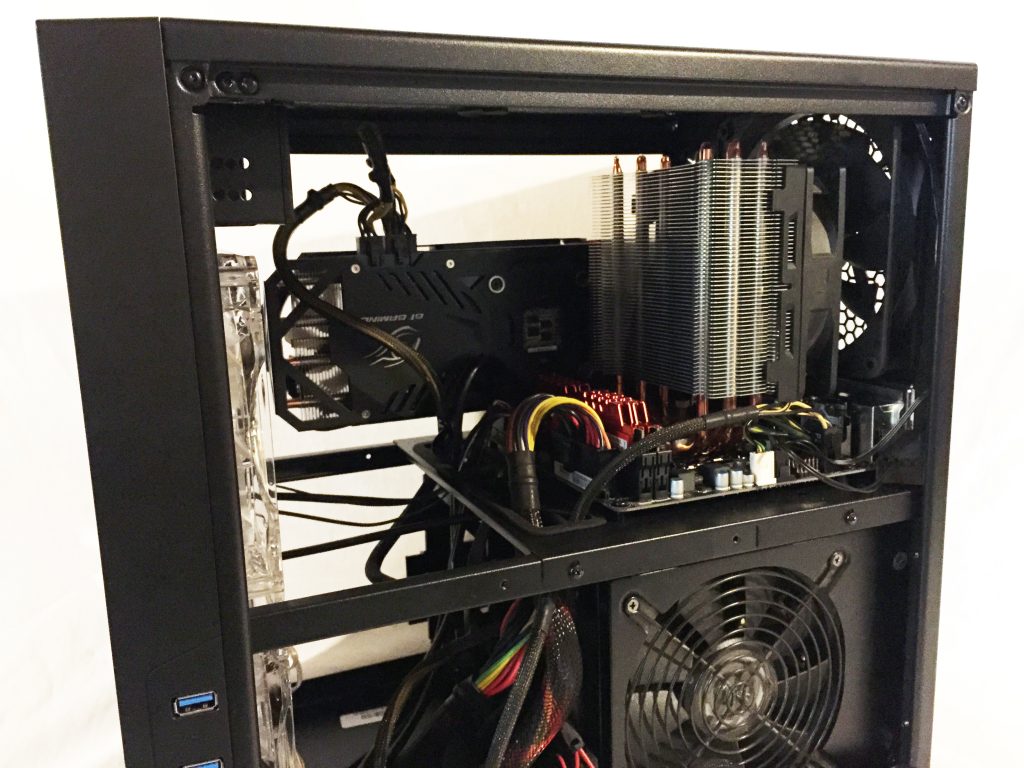 A word of caution, however, in all MiniITX builds it's extremely important to use fully modular power supplies. In many cases, you might even want to use shortened cables. Otherwise, you might wind up with cable spaghetti. The Neutron is particularly forgiving here, with ample floor space for those with less than stellar cable management skills.
All of the vents, the mesh, and the provided fans were enough to keep the interior of this case at just about ambient temperature. My basement happens to be quite cold – typically around 67F. Even with an aggressive overclock on my test CPU, a Pentium Anniversary Edition G3258 at 4.5Ghz (which reads around 67C/152F at full load), and heat being dumped in to the case from the GTX970, interior temperatures were just a few degrees above ambient at 75F. The entire front of the case is essentially one giant vent – as mentioned above, it's actually a removable dust filter that's held in place by a set of rather powerful magnets, guided back in to place by a couple of plastic posts.
Value
At an MSRP of $89, the Neutron is in the same price range as well established and popular competitors such as the Bitfenix Prodigy. Having assisted a friend with a Prodigy Mini ITX build in the past, I found this easier to work in overall. Another reason that the Neutron could possibly be more attractive to you, is the fact that it can periodically be found at rather deep discounts. At time of writing, the Neutron is available on Newegg for just $50 after an instant rebate, and a promo code that expires 5/13. It's also available via Rosewill's Superstore on Newegg for just $39.99 (found below the standard "Add to Cart Button" as an additional buying option).
Price aside, this case could last through a few builds if you would give MiniITX the chance. It's got quite a solid construction, and I have no concerns about its durability whatsoever. If you're looking in to doing a MiniITX build without sacrificing too much, this should be on your short list to evaluate.
For the Future
In possible product generational improvements, I would definitely like to see captive thumbscrews where ever possible, though that's probably nitpicking this overall excellent case. It's got room to accommodate anything you could possibly want out of a MiniITX build, while keeping a small footprint. I might like to have the ability to move the drive cage, have the option of an additional drive cage, or perhaps another plate to separate the lower drive/PSU compartment entirely.
Final Thoughts
Having worked in a few MiniITX cases before (though this is the first I've formally reviewed so far), I'd have to say that this was likely the easiest. Rosewill was clever in their design and execution of the Neutron, and it paid off for novice and expert system builders alike. The Neutron is forgiving, flexible, affordable, and stylish. There's not much more that you can ask for out of a case.
4.4
Forgiving, Flexible, Affordable, Stylish