Hardware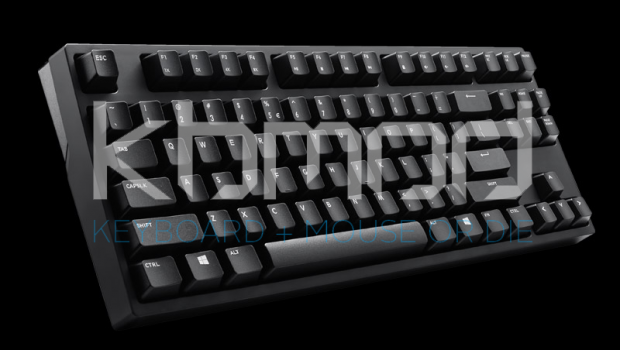 Published on November 21st, 2014 | by Bob
2
Review: Cooler Master NovaTouch TKL

Disclaimer: A review sample of this product was provided by Cooler Master Product Name: Cooler Master | CMSTORM NovaTouch TKL MSRP: $199 Premium Keyboard with Hybrid Capacitive Switches Specifications:
Keyswitch: Hybrid Capacitive, 45g actuation, 4mm travel, Cherry MX stem compatible
Key Rollover: NKRO (Windows Only)
Polling Rate: 1000 Hz / 1ms
Debounce Speed: 5-8ms
Interface: Detachable Micro USB 2.0 – Full Speed
Dimensions: 14.1(L) x 5.4(W) x 1.5(H) inches / 35.9(L) x 13.8(W) x 3.9(H) centimeters
Weight: 1.97 lbs / 895g
Warranty: 2-year
First Impressions
I had planned on making an unboxing video to embed here, but I found during my "dry run" that the NovaTouch TKL is shipped in some of the most utilitarian and minimalist packaging I've seen. A sleek black box with an understated Cooler Master logo opens to a black foam insert the size of the keyboard, surrounded by more of the same black foam. Pulling that away reveals the all-black, no-nonsense NovaTouch TKL above a product manual, an extremely high quality braided micro USB cable and a key cap puller. There are no gimmicks, no frills, and no flare. Some might be disappointed with that type of packaging, but I am not among them. It made me see the keyboard itself as a professional precision tool right from the start – a theme that would continue.
At 14.1 x 5.4 x 1.5 inches and 1.97 lbs, the NovaTouch TKL is compact and dense. It's built like a tank. There is no flex as I torque the board between my hands with a considerable amount of force. No, I do not have a force meter at my disposal for testing, nor do I want to legitimately attempt to warp it – but we definitely won't be seeing a #bendgate in reference to the NovaTouch TKL.
Cooler Master opted for a tenkeyless design with the NovaTouch TKL for more comfortable positioning of keyboard and mouse as well as offering additional portability. My "daily driver" up until now, and my reference point for this review, had been a full sized Cooler Master QuickFire XT with Cherry MX Brown Switches – so the tenkeyless design was a bit new to me. I rely on a PIN to unlock my PC both at home and at work, and had grown very much accustomed to using the number pad in particular with MS Excel. I certainly missed it for a bit, but after a few days of use so far it doesn't bother me much except for the odd miss here or there where I would expect to hit the Enter key with my right-hand thumb. Apparently I do that more than I had anticipated. On the upside for the tenkeyless design, the mouse is indeed much more comfortable just a couple of inches closer.
While it's missing a number pad, it does include media keys thanks to a Fn key to the right of the space bar. Combined with keys F1-F4, you may select keystroke repetition speed. I tested this out a bit and don't see a personal need to change this from 1x. Fn + F5-F8 controls media playback, Fn+F9 disables the Windows Key (a god-send for those playing in full screen for one reason or another), and Fn+F10-12 controls audio volume.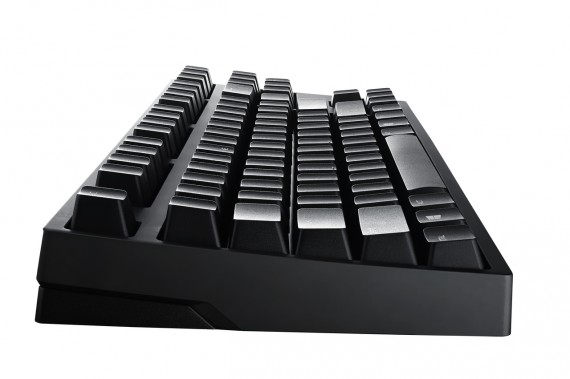 Why We're Here – The Keys & Switches
The NovaTouch TKL incorporates a 6-part Japanese hybrid capacitive design. It starts with a steel plated PCB layer, a conical spring, and an electrostatic layer. A Cherry MX compatible stem and housing sit below the keycap. This is very similar to the switches that you'll find on a Topre Type Heaven, with the exception of the Cherry MX compatible stems. The NovaTouch TKL did not include additional key caps, but I took a few moments to swap keycaps back and forth between the NovaTouch TKL and my QuickFire XT for good measure.
The great part about this type of switch is that it completely eliminates switch bounce and chatter. The keys feel solid with a precision-tuned 45g of actuation force required for each key. There's a satisfying sound to each keypress, without the obnoxious click of a Cherry MX Brown, Blue, or Black. It also lacks a tactile bump mid-press like you'll find in a Cherry MX Brown, Blue, or Green switch.
All of the keycaps of the NovaTouch TKL feel more solid to touch than that of my QuickFire XT. With fingers resting lightly on each at the home row, I found quite a bit more side-to-side play on the QuickFire XT. That's not to say that that QuickFire XT keys feel loose, but it's more of a testament to how solid the NovaTouch TKL feels.
For those looking for a little additional dampening, Cooler Master includes o-ring grommets that should make keypresses a bit softer and reduce the noise slightly. Though in my own testing, I couldn't hear much of a difference. While that could certainly be worthwhile on a traditional mechanical keyboard, with this type of switch I'm not sure it would be worth time to install all of the o-rings.
Final Thoughts
Circling back to my precision tool comment earlier, the NovaTouch TKL is primarily intended for heavy-duty typing (as well as gaming). It was designed specifically with working professionals, professional gamers, software engineers, and journalists in mind. With an MSRP of $199, it's abundantly evident that this is not a casual keyboard by any stretch. At time of press, the NovaTouch TKL can be found for around $180. Given its feature set in comparison to its direct competitors, such as the Topre Type Heaven and Topre RealForce 87U, Cooler Master has positioned itself well.
As a heavy typist, I greatly appreciate the hybrid capacitive switches here in the NovaTouch TKL in both the reduction of fatigue and increase in precision. I've used it for several days now, and I have to say that the keystroke is indeed more satisfying and solid than that of my Cooler Master QuickFire XT with Cherry MX Brown switches. It may have just been sort of a placebo effect, but I felt as if my key commands while playing Battlefield 4 were registered more quickly and more accurately – my in-game avatar was behaving in the way I wanted and my level of play rose to a noticeable level both in my playtime satisfaction and on the scoresheet. Let's be honest though, I'm pretty awful and generally out of practice. It doesn't take much to rise from the bottom!
I do have just a couple of wish list items for the 2nd generation product – I would have liked to have seen an integrated USB hub, as well as integrated headphone and microphone jacks. Obviously they're not deal-breakers, but at that expense they certainly would have been welcomed additions. I would have also liked to see a few custom key caps included as had been with my much less expensive ($89) QuickFire XT. Additionally, I have my concerns about the durability of the Micro USB port. This isn't a Cooler Master issue so much as a USB standard issue. I've had durability issues with Android phones that have adopted the standard. Eventually the receptacle always seems to wear from stress – both vertical and horizontal – and provides a flaky connection. Cooler Master notes that micro-USB is a more commonly available interface than other options, such as a larger and more durable USB Type A (non-standard, such as my QuickFire XT) or USB Type B (standard, such as you would find with a printer or USB HDD) connector.  That part I can confirm – I have plenty of those cables laying around. None are so well made as the included braided cable, however. I have full confidence in the cable it self, but the tiny port on the back of the keyboard living up to a couple of years worth of stress is what has me worried for a $200 keyboard. Thankfully, Cooler Master includes a very generous 2-year warranty on the NovaTouch TKL.
In conclusion, the NovaTouch TKL is an excellent keyboard for those looking for a more satisfying typing experience, or for perhaps those looking for a competitive advantage in response time. It's quiet, comfortable, solid, and precise. In my humble opinion, it delivers on everything that it promises – a premium typing experience without frills and flare.
I would indeed recommend this keyboard to anyone who spends the majority of their day typing in a professional setting. At nearly $200, I would be very hard-pressed to recommend this over less expensive options for a casual gamer.  That being said it very well may fit the bill for an aspiring eSports professional gamer or a professional content creator – particularly those concerned with keyboard noise in front of a microphone.