Battlestations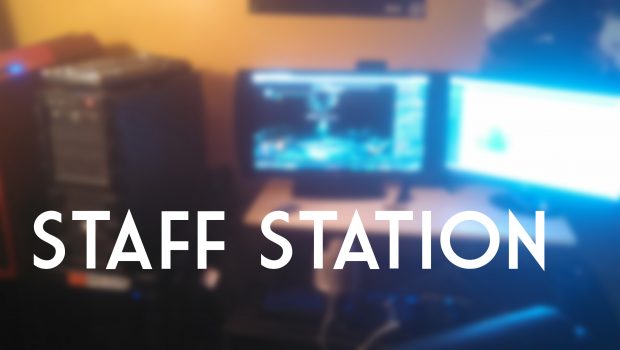 Published on February 16th, 2015 | by stafunoob
2
Staff Station – Stafunoob
It has been years since I submitted my "Bro Cave" for a feature on the site.  Now, I find myself putting together another piece to be featured for one of our Staff Stations. My setup has had many transformations over the years; followers and viewers of my stream know that I switch everything around at least twice, if not three times a year. That being said, I think I have found the perfect balance between a room and "studio" –  a place where I can stream for the Timhole, yet lay back in bed and binge on seasons of shows I've never watched.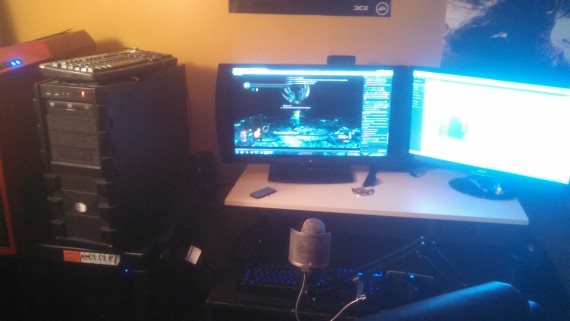 Gaming PC
Streaming PC
EVGA Sabertooth z97 Mark 1Intel 4770k 3.50 @ GhzCoolermaster Hyper 212 Evo

Nvidia EVGA GTX 970

8 GB Corsair Vengeance

128 GB Crucial M4 SSD

2 TB Western Digital HHD

850 EVGA PSU

Gigabyte GA-990XA-UD3AMD FX-8320 @4.5 GhzCoolermaster Hyper 212 Evo

Nvidia EVGA GTX 670

12 GB Gskill Ripjaw X

1 TB Seagate HDD

650w Corsair PSU

Avermedia Live Gamer HD
Take notice of the cart to the left (pictured above). Not letting my parents get rid of this thing has been the smartest decision I have ever made. Before this, I had both of my PCs and all of my consoles just lying on the floor. While they were neatly put in order, I just didn't feel it was very organized, at all.
Let me break it down for you all…
On the top shelf I have my PCs: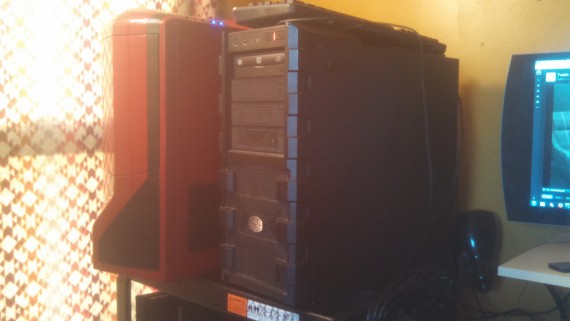 While the second has all of my consololols – a Playstation 3, Playstation 4, and a Wii U, to be precise.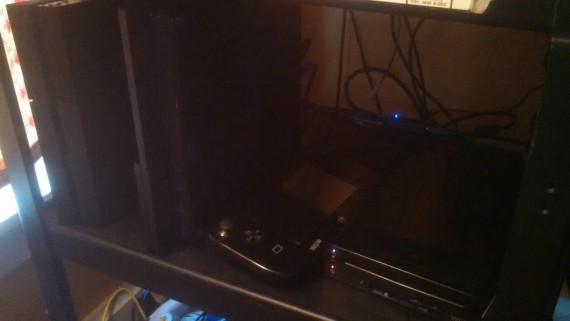 On the third and final shelf, I have a smorgasbord of various controllers, adapters, fight sticks, and flight sticks. There is even a Blue Yeti sitting in the back, there!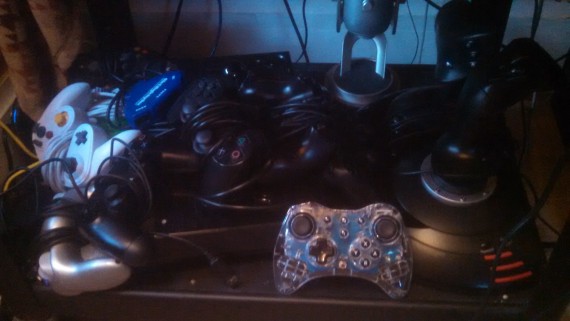 Firstly, the idea of this setup was to organize things a bit better. Secondly, I wanted to make it easier for me to switch over from streaming PC games to console, and vice versa. Before, I had to unplug the HDMI cable running from my gaming PC to the streaming PC, and plug it into whatever console I desired streaming at the time. Thankfully, with how I have everything setup now, I have everything running into a 5-input HDMI switch and all I have to do is use a mini remote to switch which HDMI source I want the Live Gamer HD to use.
Now, lets switch over to the desk area of mine. While most people have their monitors on a desk or slightly elevated by a stand, I built a full-on shelf. With the combination of my desk height, chair height, and my own personal height, I have my monitors at perfect eye level for me. This has forced me to have better posture; relieving neck and back pains I would have otherwise experienced.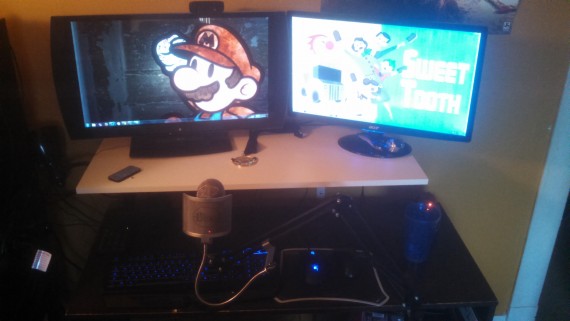 A 24″ Playstation TV and an 24″ Acer Idontknowthemodelnumberoops! Not the most ideal monitors, but I love the picture of the Playstation TV and the Acer gets the job done for reading chat or just browsing the internet.  You can also see the webcam I use (Logitech c920), my Extra-Life Gold Medal, and my watches in this picture.
My Desk: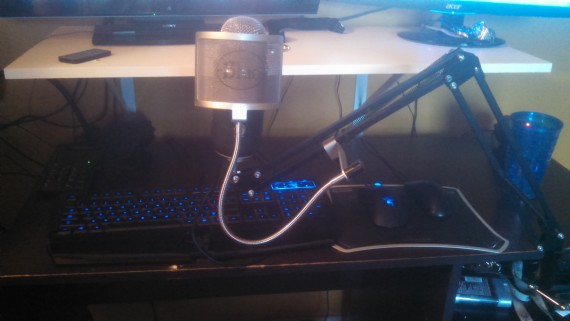 My desk is a $60 one from Staples, it has drawers to put things in and a flat space for my mouse and keyboard. Nothing special but it gets the job done!  My mouse is a Razer Deathadder – to this day, it's the only mouse I enjoy using. I have tried various other mice out there but the Deathadder just fits my hand perfectly.
My keyboard is a Razer Lycosa, but before you go start screaming RAZER FAN BOY RAZER FAN BOY, listen: if I can find myself a good deal, I'm going to take it (especially when you have friends at Best Buy with discounts).
Also shown is my Blue Yeti Pro, attached to a $35 boom stand from Amazon. I will be upgrading to a Rode PSA-1 soon, though.  The only other things you may spot are the deodorant to hold back the nerd sweat, an extra numpad for easy scenes changes, a second mouse for the streaming PC, $20 Walmart speakers, and a cup of water.
That's my station, though! Though slightly cleaner than it normally is for the sake of presentation. I didn't have any internal pictures of my PCs, but that's all for good reason. I am lazy and couldn't be bothered to unplug everything to do so!
If you have any questions or would like more insight into my setup, feel free to leave a comment below and I'll be happy to clear anything up!