Reviews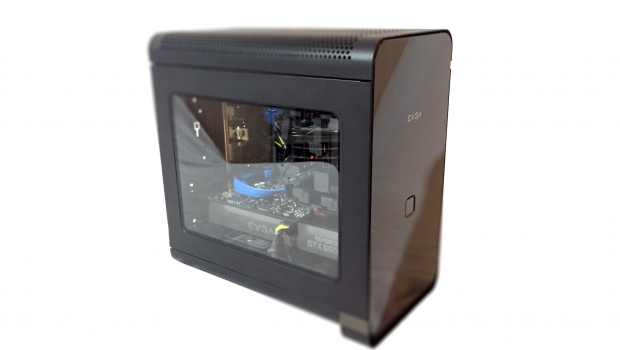 Published on June 11th, 2015 | by Bob
4
Review – EVGA Hadron Air
Disclaimer: A review sample of this product was provided by EVGA Product Name: EVGA Hadron Air MSRP: $159.99

Specifications:
Form Factor Support
Mini-ITX Motherboard / Integrated 500W 80+ Gold PSU
Case Materials
 SECC + Acrylic
Dimensions (HxWxD)
 12 x 6.6 x 12.1in
Weight
13.22 lbs
Storage options

Supports 2x 3.5in or 2.5in drives

Optional slim slot load optical drive

Pre-installed Fans
2x 120mm Fans (top)
Features

Supports dual-height Graphics cards up to 10.5in / 267mm

2x USB 3.0, headphone, microphone

First Impressions & Aesthetics
Meet the Hadron Air –  in my opinion, the embodiment of the Mini ITX platform. It's sleek, it's stylish, it's super compact. At just over half of a cubic foot in volume, you would be very hard pressed to find a case with a smaller overall footprint that still accepts a full size GPU up to 267mm in length. That's just enough room to squeeze in a Titan X, a reference GTX980Ti, GTX980, GTX970 – you get the picture.
The Hadron Air is so compact, in fact, that it required a server-style integrated 80+ Gold 500W power supply at the bottom of the case. No room for an ATX or SFX power supply here. Don't worry, it's a rather hefty unit that provides 40A on the +12V rail. It includes a 2-bay tool-less hard drive cage, and two 120mm fans.
The exterior is dominated by black SECC steel, a large acrylic side window, as well as a mirror finish black acrylic front panel. At the center you'll find a silver EVGA logo, and a single power button. On the right hand side, EVGA has made two USB 3.0 ports, a headphone jack and microphone jack accessible, a slot above for the optional slot-load slim optical drive, and a vent positioned low close to where the GPU will sit. The top of the case is dominated by perforated steel that gives the case a really pleasing aesthetic.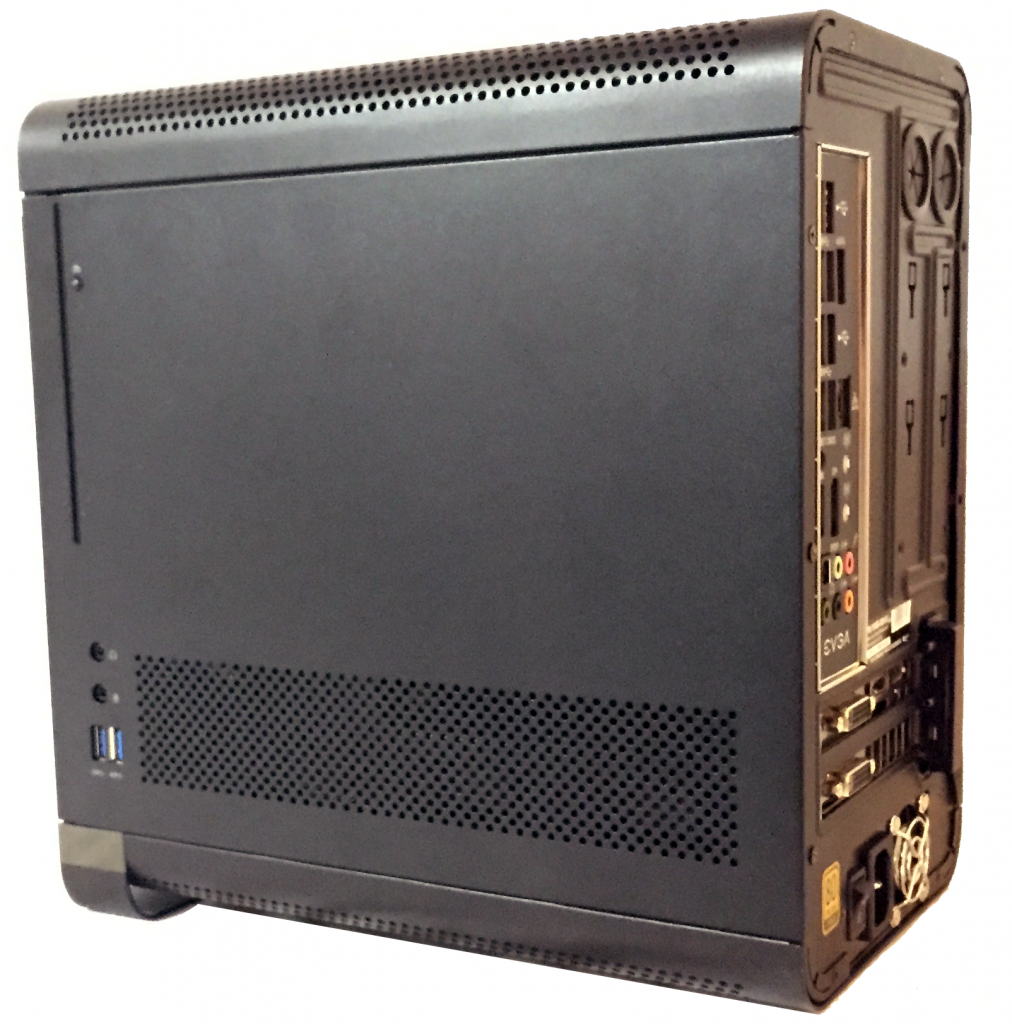 The bottom of the case is also perforated, with a small metal band extending from the front of the case to tilt the Hadron back slightly. This is to permit airflow from bottom to be drawn to the top and drawn out of the case, as there are no vents at the front as you might expect with a larger case. Neither the top nor the bottom provide room for a dust filter – buyers be diligent in cleaning your case!
This case is pretty. Really pretty. It might be a bit too shiny for some, but I find it to be tasteful and mostly understated. The majority of the exterior is dominated by a nice matte finish, and the smudge-magnet mirror finish black front panel just begs me to clean it. Over, and over, and over. I'm OK with that, though.
Functionality & Performance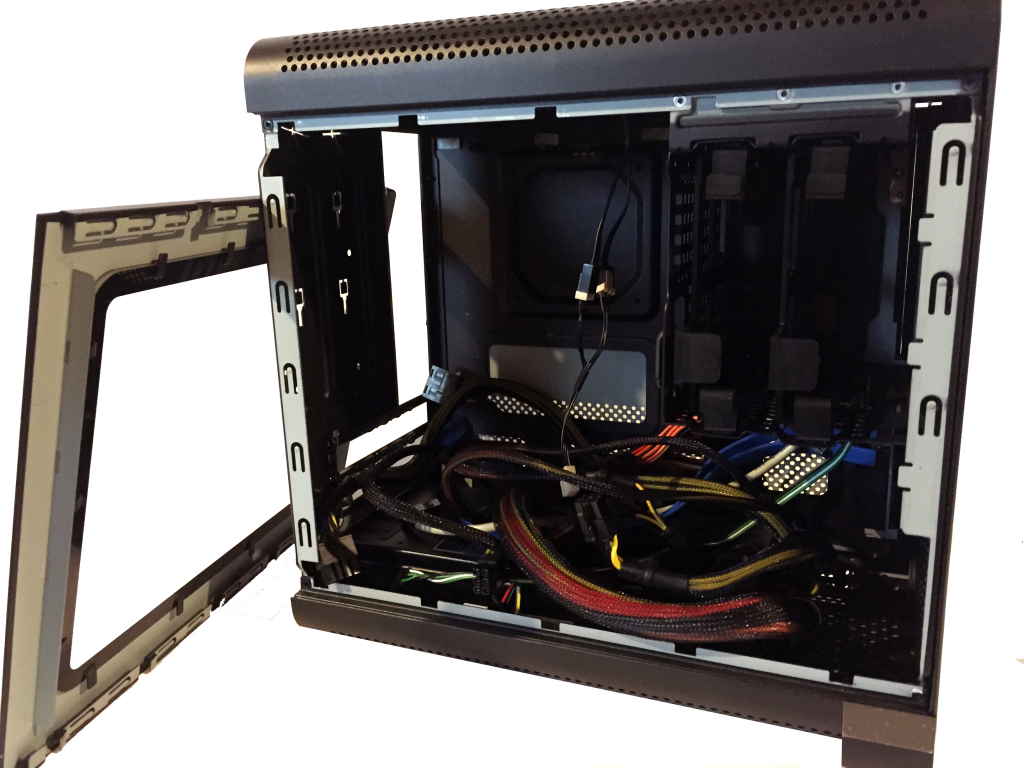 My last review for a Mini ITX case was of one of the most accommodating in the category, the Rosewill Neutron. It's rather large and forgiving at around 1.38 cubic feet in volume – the Hadron Air is just around 40% of its total size. This thing is tiny. Let's get something straight – this thing does not give a shit about your hopes, dreams, or skill level – it's going to bend you and your will to its will. You're probably going to let it, and you're going to like it. To build in a case like this, you need to come to the understanding that you're entirely at its mercy. There will not be quick and easy cable routes. There will not be ample room for your ham-hands to manipulate parts, plugs, or cables once installed. Thankfully the interior isn't full of razor sharp metal or this could have been a bloody disaster both literally and figuratively. This is the kind of case that you pull all of the wires out of to assess and carefully evaluate where each one is going to be routed before even installing the motherboard.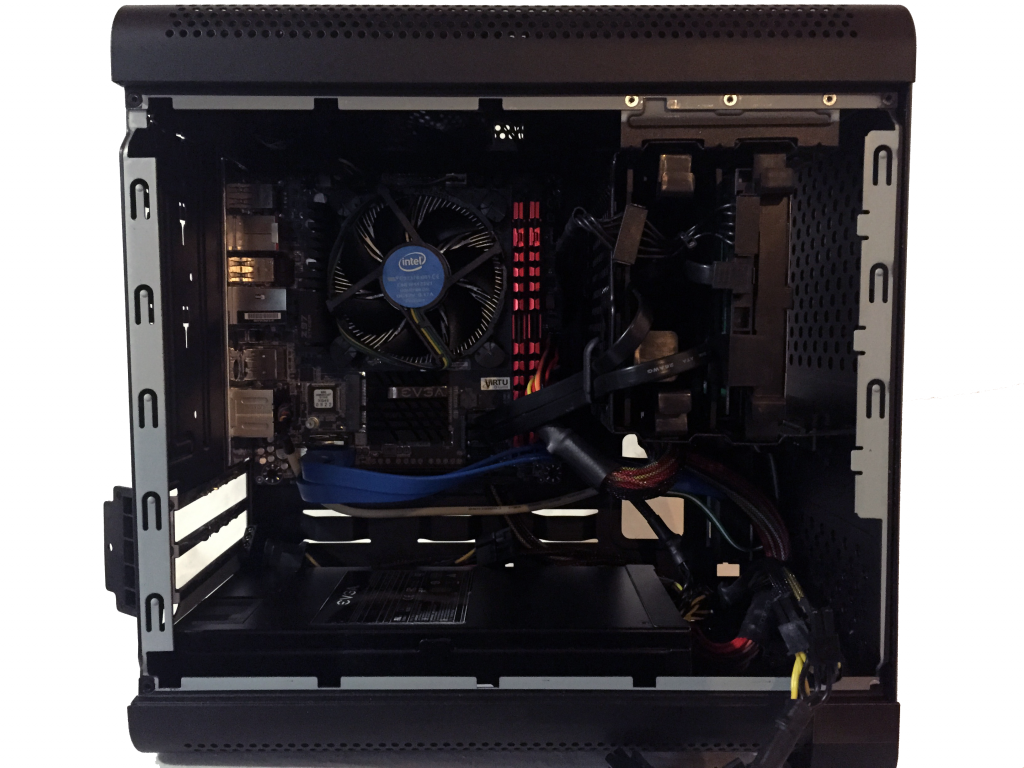 I didn't do any of that, of course. Planning ahead is not one of my strong suits. I plowed ahead and at one point laughed to myself that I'd basically zip-tied a finger in to place. I backtracked a bit, and started from scratch. Needless to say, yes, this beautiful little case is challenging and demanding. It is, however, incredibly rewarding once you're done building and realize that you have a high performance PC taking up about a half a cubic foot of space.
For this build I used an EVGA Z97 Stinger, an i3-4160, and an EVGA GTX660 that I had laying around. I'm unfortunately stuck with the stock intel cooler at the moment, though EVGA does offer an ACX mITX CPU Cooler that was designed for the Hadron Air. CPU cooler height is limited to 140mm in height, limiting your options to low profile or top-down coolers should you choose to look elsewhere. Looking at completed Hadron Air builds, the Noctua NH-U9B SE2 seems to be a popular choice. Obviously I'm not using an overclocked 4790K here, but under full load this little 54W i3-4160 hits 70C/158F and it barely impacted case thermals. The Hadron was pretty consistently around 4C/8F above ambient temps in my office.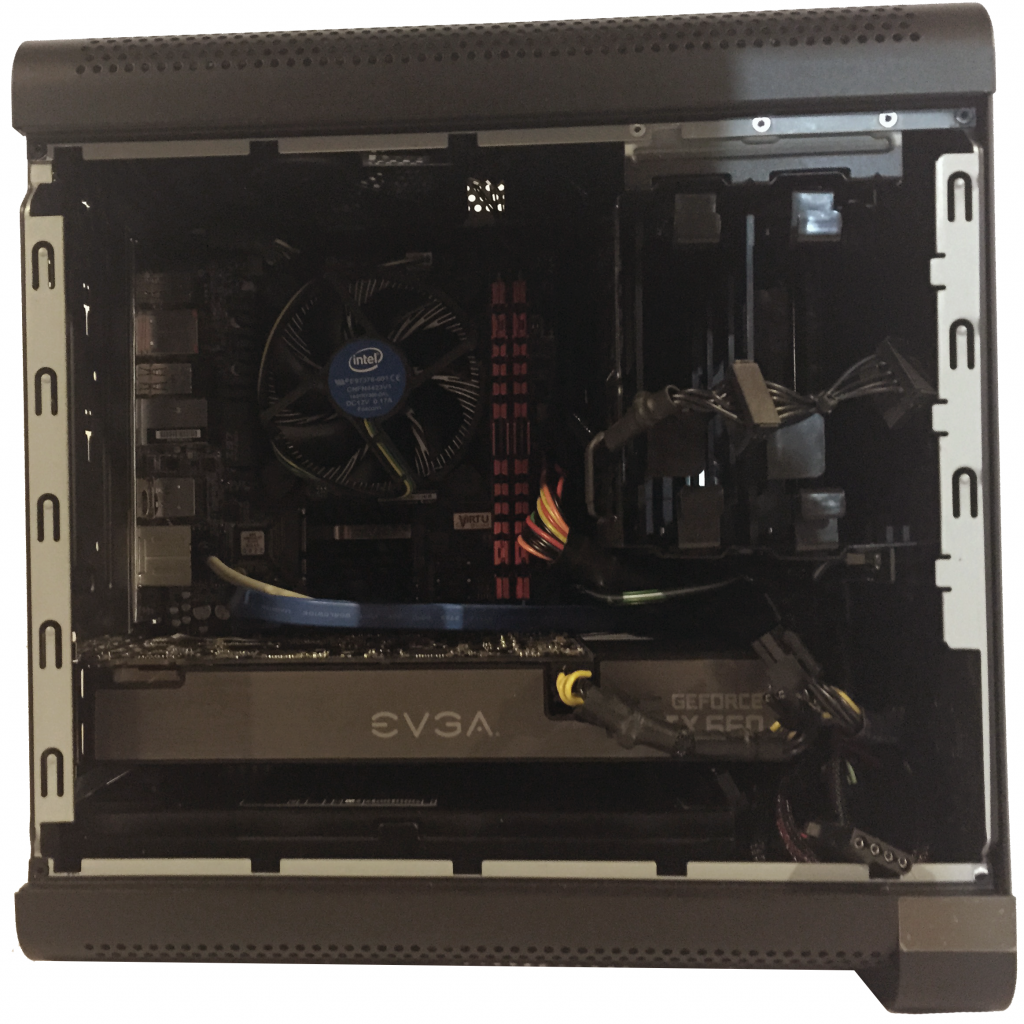 Value
At an MSRP of $159, some might question why you'd pay such a premium for such a tiny case – that's a fair question after all, with a market full of good options. For one, the Hadron Air has an integrated 500W 80+ Gold certified power supply. A quick peek on PCPartpicker reveals 500W 80+ Gold certified ATX PSU's around $55 to $80, and SFX PSU's around $80. That's an easier proposition when you're essentially buying two parts at once. The Hadron is a well engineered case made of solid materials. My only durability concerns revolve around the mirror-like finish on the front panel, and the paint on the metal band that slightly tilts the case back – there is rubber at the back, but strangely none at the front.
At time of writing, the Hadron Air is available from Newegg for $125.98 (with a $20 mail in rebate), and for $130.49 from Amazon.
I think much of the value in this particular case is very personal to the end user – if you're the type of person who might have very limited desk space, or need to move your PC very frequently, this case could be worth its weight in gold. I find it to be thoughtfully crafted with high quality materials. If that's your thing and you're set on going Mini ITX, pick this one up.
For the Future
I do have a few pieces of constructive criticism for the Hadron Air – first and foremost I wish the drive cage were removable. It's unfortunately been installed with grommets rather than screws, and removing it is a painful proposition. It certainly can be done, and has been done – this case is actually very mod-friendly – but I wish that were installed with just a couple of screws. I'm not sure if they felt like it was necessary to maintain structural integrity, but I think with 3.5″ drives going the way of the Dodo bird, it would have been nice to reclaim that space if you're just installing a single 2.5″ SSD elsewhere.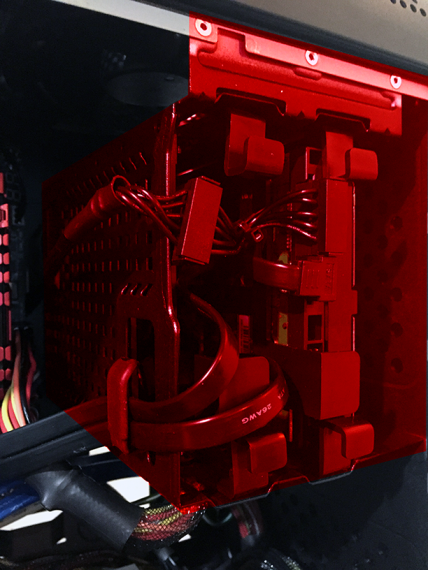 With even mid tower and full tower ATX cases abandoning optical drives, I wonder if the space dedicated to the optional (not included/separate purchase) slim slot-load dvd drive was a necessity. That's probably nitpicking, but maybe that space could have been utilized for another case feature, or perhaps as the defacto single 2.5″ drive mount point, with the removable/optional HDD cage.
The USB 3.0 cable is unfortunately bright blue. In my current configuration it's impossible to hide – I can't find a way to route it (due to length) where it's less obvious. It would be relatively easy to sleeve it in order to hide it, but things would have been much more simple and understated if it were instead black.
I desperately wish that the power supply was at least semi-modular. Given the lack of interior real estate, I'm having a hard time finding a use or even a need for the 4 molex connectors that are available on two strands. There is a channel directly below the motherboard where I was able to hide them, but it would be much better if they could just been removed entirely.
Final Thoughts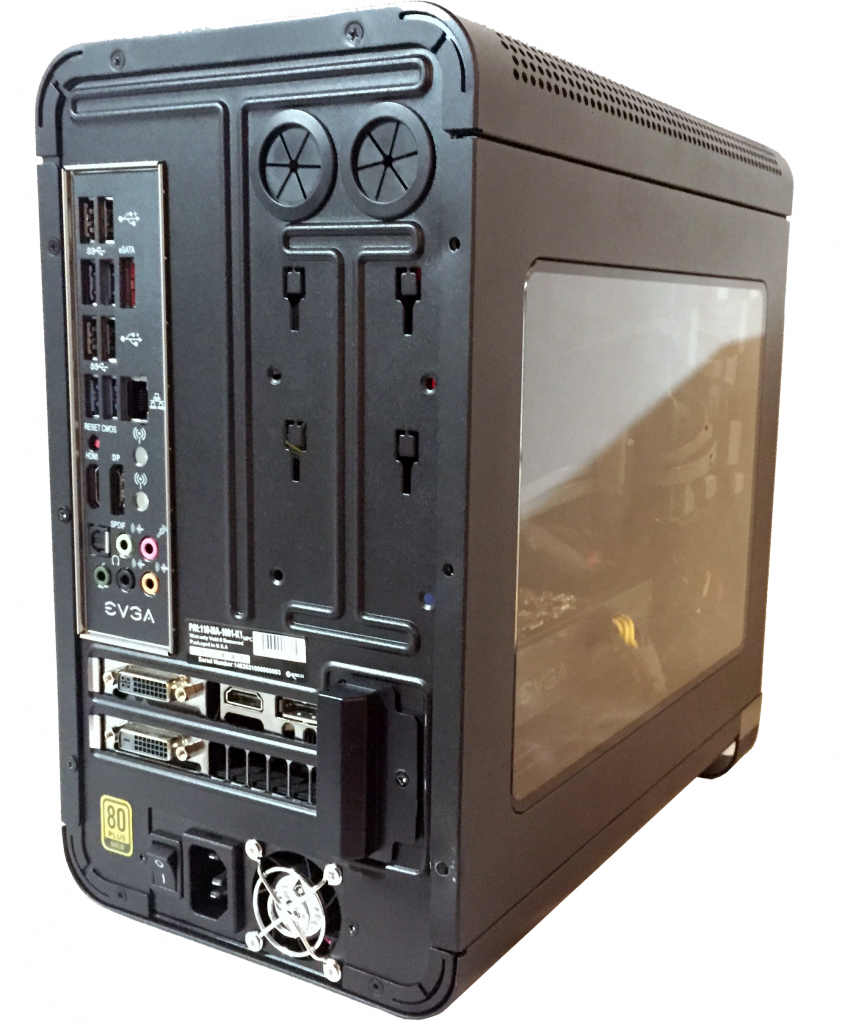 I'm supposed to try to stay impartial and unbiased, but man am I having a hard time doing so with the Hadron Air. I love it. It is my precious. It's everything that I love about Mini ITX – tons of power in a tiny platform – all the while looking like a finely polished, high quality piece of equipment. It's not without flaws, but they can be overlooked with everything else it brings to the table. Quite frankly I might get executed for saying this, and you'll have to pardon me for my attempt at genuinely high praise here: for years the full size Apple Mac Pro case has been one of the best looking and cleanest cases out there in my opinion. Of course it was completely inaccessible to a system builder – your only hope was to salvage a stripped case and painstakingly modify it for an ATX or mATX motherboard. Had the EVGA Hadron been made of that classic Apple silver aluminum (without a window of course), and had an Apple logo slapped on the front, you could have very easily convinced me (and I'm sure many others) that it was the true spiritual successor to the Mac Pro.
In my humble opinion it's nailed many of Dieter Rams principles of "Good Design" – there is always room for improvement, but this is a wonderful first chassis effort from EVGA. It's definitely one that you should consider if a Mini ITX build entices you.