Battlestations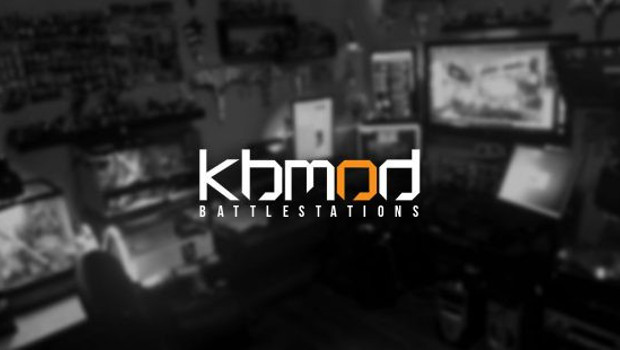 Published on September 9th, 2016 | by KBMOD Community
2
Battlestation – JesseFreakinD
This week's featured battlestation comes from JesseFreakinD… follow him on Twitter! If you want to share your setup with the KBMOD community, check out the Battlestation Sumbmissions page.
Hello! I'm Jesse!
First off, I wanted to thank everyone who had a role in getting Battlestations going again. I've been an avid PC gamer since I finished up college and my brother inspired me to build my first PC 3 years ago. I've always looked to KBMOD's build guides and submitted battlestations (or "brocaves") as guidance towards improving the feng shui of my desk. Anyway, on to the specs!
When I first built my PC back in 2013, it was crammed into an ill-fitting Cooler Master Elite 430 with, although I tried my very best, cringe-worthy cable management. Since then, I've moved everything into the very spacious Phanteks Enthoo Pro Acrylic case. I've upgraded the CPU cooler from stock to a Cooler Master Hyper 212 Evo, and also threw in an Intel SSD given to me by my other oldest brother, Mike (PoonOfDemise), who works at a computer recycling and building facility. My full specs are: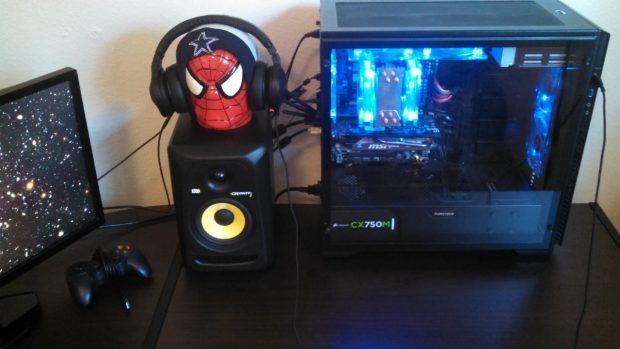 My PC:
CPU: Intel i5-4670k
CPU Cooler: Cooler Master Hyper 212 Evo
MOBO: Asus Z87-A
RAM: 4x4GB DDR3 G.SKILL Ripjaws @ 2333MHz
GPU: MSI TF GTX660
PSU: Corsair CX750M
Case: Phanteks Enthoo Pro Acrylic
Storage: 1 x WD Blue 1TB, 1 x Intel 120GB SSD
Peripherals:
Monitors: 1 x Asus VG248QE, 1 x Asus VE248H
Studio Monitors: 2 x KRK Rokit 5 G3
Headphones: Razer Kraken 7.1 Chroma
Mouse: Razer Deathadder Chroma
Keyboard: Razer Blackwidow Chroma Tournament Edition
Mouse pad: PAX West 2016 Playmat
Gamepad: Logitech Gamepad F310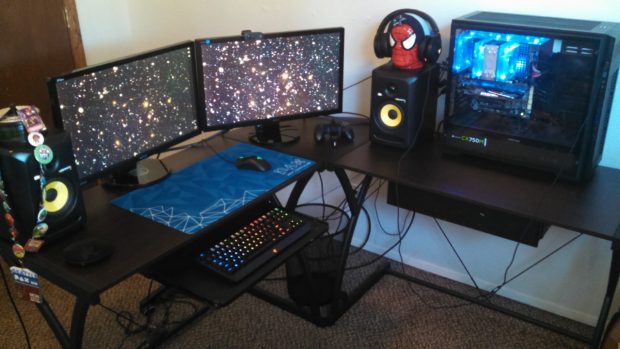 I feel like I've come a long way with Tawni, my PCs name (don't judge. don't do it.), but I still see room for improvement and probably always will. Right now I'm waiting for my best friend, Todd (Toad909), to upgrade to a GTX 1080 and trade me his GTX970 for a keyboard of his choice. What a guy, right? After this, I definitely want to upgrade my CPU cooler to liquid cooling and I'm considering going custom with the help from both of my brothers. I also want to rip out the cheesy LED 120mm fans and replace them and the lighting with some white 140mm fans and an NZXT Hue + lighting system. If you haven't heard of the Hue +, check it out. It's really awesome. Another great lighting system meant for ambient deskspace lighting is Lightpack, which I always plan on getting my hands on.
I never imaged I'm come this far with my setup but I'm very proud of the progress I've made. My favorite part of my desk is my speakers and my chair. It's nice to come home from a long day of work, sit in my amazingly comfortable desk chair, close my eyes, lean back and listen to the playlists my brother Mike and I have created. But when I'm not doing this, I'm playing any multi-player game I can with the boys. As of late, it's been a lot of Starbound, GTA Online, and Fallout 4's DLC. But after just getting back from PAX West, my hands are pretty full with games I need to purchase and complete! Feel free to add me on Steam, Spotify, Origin, Social Club, Uplay, Etc.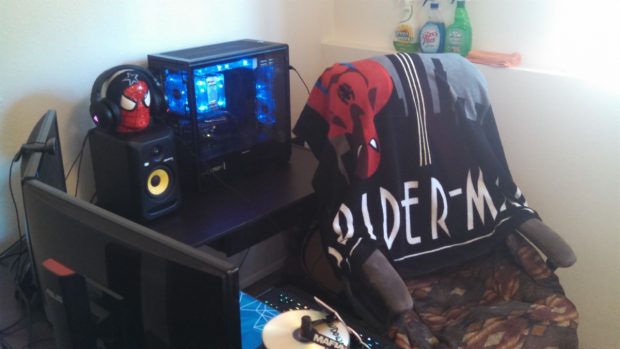 Thanks again!
JesseFreakinD