Hardware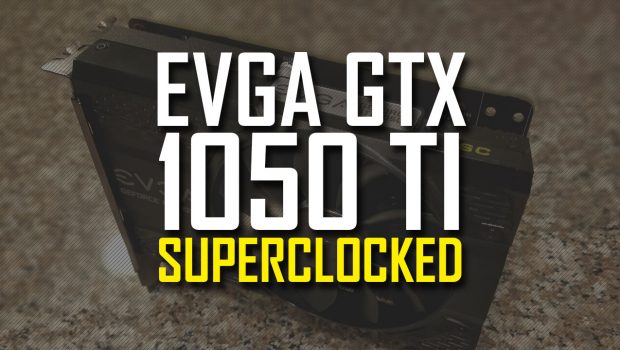 Published on November 12th, 2016 | by Bob
0
Review – EVGA GTX1050Ti SC
A review sample of this product was provided by the fine folks at EVGA – Make sure to follow @TeamEVGA and @EVGA_JacobF for all things EVGA related!
Just a few short weeks ago, NVIDIA along with its partners launched their GTX1050 and GTX1050Ti series cards based off of the GP107 Architecture. Targeted with a very reasonably MSRP of $109 and $149 respectively, they represent the bread and butter of the modern GPU market. They're wallet friendly, and most importantly require no supplementary power. That's right – they sip just a maximum of 75 Watts and can be slapped in virtually any name-brand OEM PC with a PCIe x16 slot and a free slot below. Stuck with the family HP or Dell for the foreseeable future? This might just be your one shot upgrade to 1080P / 60 FPS.
The GTX 1050 and 1050 Ti fall neatly in between their predecessor the GTX 960, and the GTX 1060.
| | | | | |
| --- | --- | --- | --- | --- |
| | GTX 960 | GTX 1050 | GTX 1050 Ti | GTX 1060 |
| Architecture | GM 206 |  GP 107 | GP 107 | GP 106 |
| Process | 28 nm |  14 nm | 14 nm | 16 nm |
| CUDA Cores | 1024 |  640 | 768 | 1152 (3GB) / 1280 (6GB) |
| VRAM (GB) | 2 / 4 |  2 | 4 | 3 / 6 |
| Bus Width | 128 bit |  128 bit | 128 | 192 |
| ROPs | 32 |  32 | 32 | 48 |
| TMUs | 48 |  48 | 48 | 80 |
| TDP | 120 Watts |  75 Watts | 75 Watts | 120 Watts |
| Launch Date | Jan 2015 |  Oct 2016 | Oct 2016 | Jul 2016 |
| Launch MSRP | $199 |  $109 | $139-159 | $249 / $299 |
EVGA's 1050 Ti SC Gaming edition is just a hair longer than a PCIe x16 slot, at just 5.7 inches in length, and 4.376 inches wide and features their ACX 2.0 Single Fan cooler. It's clocked at 1354mhz base clock, 1468mhz with boost. It carries similar styling to its bigger brother ACX 3.0 cooler-equipped models with a large dual ball bearing fan. It comes equipped with an HDMI 2.0 port, DisplayPort 1.4, and a DVI-D connector.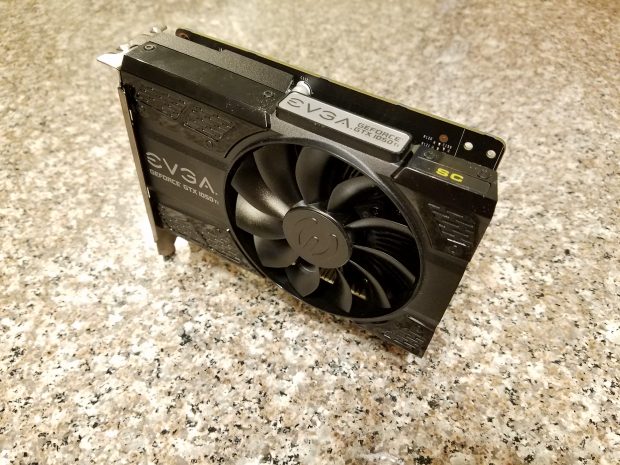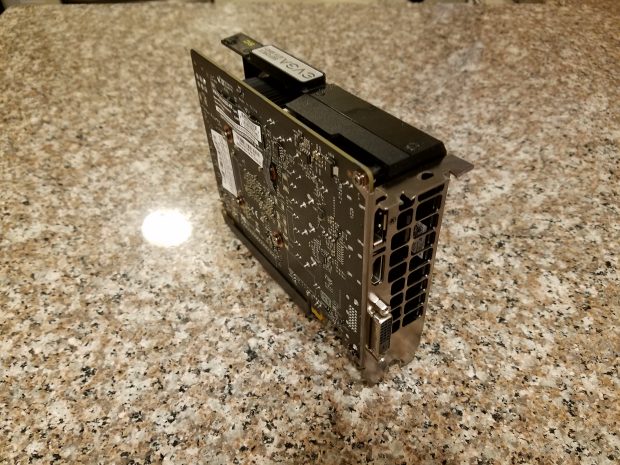 A couple of quick housekeeping items before I get on with the benchmarks – much like any other review site, I sought to eliminate any other system bottlenecks and get a good read on the GPUs maximum potential. All cards are running their stock speeds "from the factory" so to speak.
I decided to pit the 1050Ti against the entire arsenal of my NVIDIA collection over the past couple of years just to get a sense of where it fits in in the performance stack. Among the competition for this review are the GTX680, GTX760, GTX970, GTX980, and GTX1080. I wanted to include them all to paint a picture of where the 1050Ti sits in the NVIDIA stack. I was interested in particular to pit it against older / much more expensive / much less power efficient cards (680/760), against cards in the same price range in the second hand market (970), against a virtual stand-in for the 1060 3GB (980), and the current king of the hill, the 1080.
Test Bench:
Intel i7 5930K @ 3.5ghz
Corsair H110i GTX
Gigabyte X99-UD4
32GB G.Skill Ripjaws 4 DDR4-3000
Samsung 840 Pro 128GB SSD
Samsung XP941 256GB m.2 PCIe SSD
Sandisk Ultra II 960GB SSD
Corsair RM850
NZXT Noctis 450
Windows 10 Pro 64bit
NVIDIA driver version 375.70
I wanted to use a relatively diverse group of games that were either notable from an engine or feature perspective (physx support, for example), or were currently very popular in the competitive scene and benefit from a high framerate. Some of the titles had a native benchmark and were averaged over 3 runs, some were benchmarked with FRAPS in real-world scenarios and averaged over 3 runs. All benchmarks were performed at a resolution of 1920 x 1080.
Games Tested:
Metro: Last Light (native benchmark)
DX11, Medium, Phyx On, Tesselation Normal
GTA V (native benchmark)
DX11, High Preset
Batman: Arkham Origins (native benchmark)
DX11, High Preset, Physx On
Overwatch (FRAPS)
Ultra Preset
Rocket League (FRAPS)
High Quality Preset
Bioshock Infinite (native benchmark)*
DX11 – Max FPS score was thrown out due to exceeding 400 on all cards
Shadow of Mordor (native benchmark)
High Preset
Battlefield 1 (FRAPS)
High Preset, Resolution Scaling 100%
ON TO THE BENCHMARKS ALREADY
(the charts are interactive – this is the future!)
So what does it all mean?
When the GTX680 launched in March of 2012, it cost north of $500 and used 195 watts of power. The GTX760 launched in June of 2013, at a launch price of $249 and used 170 watts of power. in October of 2016, we have a card that's able to out-pace them at $149 and on just 75 watts of power! To be quite honest, the ability to run Battlefield 1 over 60FPS on High settings on a 75 watt card blew me away. This card opens up the ability to play Overwatch and Rocket League competitively at $149 for folks who are stuck on a pre-built OEM PC. Oh, and if you giving some though to buying a second hand card, it comes with a warranty.
If you're  in the market to buy your first GPU, this is a perfect stepping stone in to PC Gaming.  If you're Team Green and looking to upgrade from a 500 series, 660/660Ti, 750/750Ti, or a 950 – this is an inexpensive way to gain a slight performance bump and cut down on your power bill. You'll see more than just "playable" framerates on many of today's most popular games, even on high settings. Keep in mind that this is also a DX12 capable GPU, and those titles are slowly trickling out.
If you think this card might fit the bill for your gaming habits, feel free to use our Amazon Associates link to help support KBMOD.