Battlestations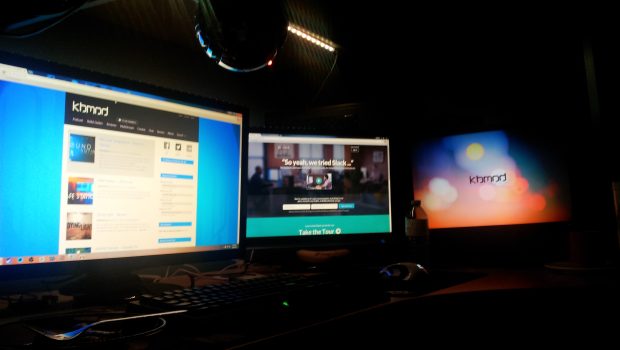 Published on February 24th, 2015 | by Fedzski
0
Staff Station – Fedzski
Hey guys, first time posting a staff station so be gentle. Welcome! Just as Tim changes around his setup a few times a year, I, too, change the position of my desk, monitors, and PC – except that I do it at least once a month. For some reason, I can just never get used to one setup.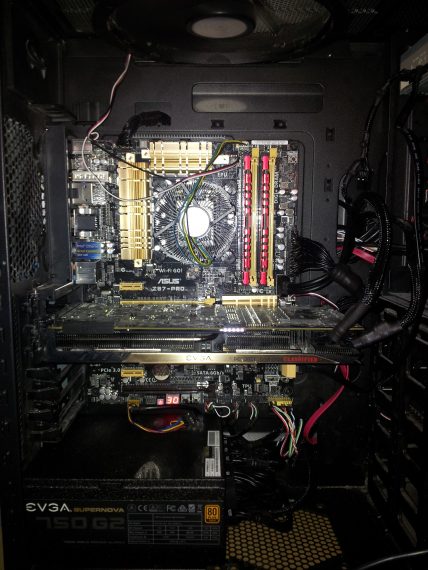 Considering how my last few builds have literally had cables all over the place, I am surprised at how well I handled the cable management in this build. This time, I wanted to clean things out a little bit and it turned out alright.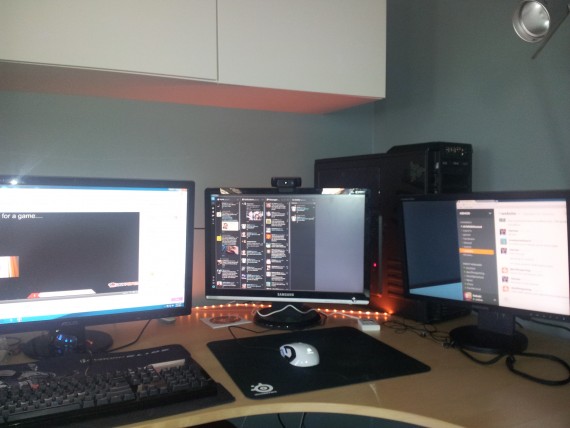 | | |
| --- | --- |
| Motherboard – Asus z87 Pro | Monitors – 27" Asus LED- 21" Samsung- 21" Samsung |
| Case – HAF 932 | Mouse – Razer Naga Hex- R.A.T 7 Cyborg Black/White- Corsair Vengeance m85(Yes I own 4 mice and rotate between 2 of them) |
| CPU – i7 4790k @4.20 | Keyboard – Das keyboard- Razer blackwidow tournament edition |
| RAM – 2×4 Ripjaw 1600 | Audio – Blue Snowball Microphone- Sennheiser hd 280 pro |
| GPU – EVGA 770 4GB | Webcam – Logitech c920- Creative Livecam |
| | |
| --- | --- |
| Cooling – Corsair H80 (Not Pictured) | Vision – Gunnars |
| PSU – EVGA 750 | |
| Storage – 1TB Cavalier Black- 128GB Kingston Hyper X | |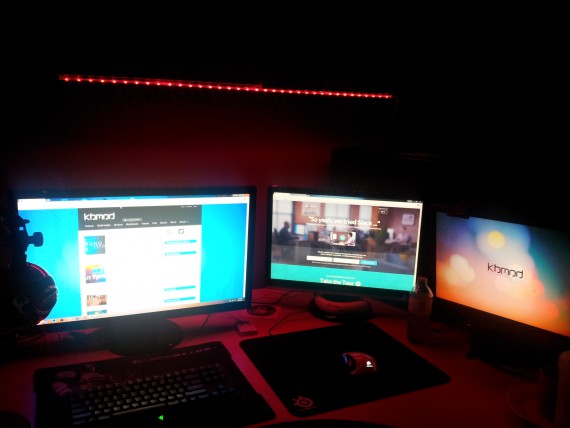 The third monitor addition is fairly new to the setup; which really isn't that much better than having two in my opinion (although, I am sure Hex would disagree with me), but it is certainly nice to have when you are streaming. I have even hooked up my TV to the PC so at times I am running 4 monitors – I think I'm going to give myself whiplash. The desk is fairly large and it's the exact same as the one seen in Hex's station.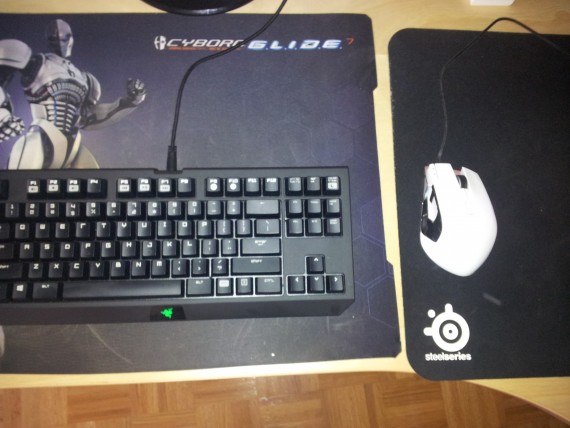 I have gone through a few keyboards in the past year. It is probably the most important peripheral to me. I have been using the das keyboard with blue keys for the longest time. As a programming student, I feel they have the best feel for long periods of typing.
I have recently returned to streaming and I can not stand how loud they are when I playback my streams – I can only imagine what my audience thinks. So, I have made the switch to a Razer keyboard with browns which are less comfortable but far quieter for streaming.
I recently moved the PC onto the desk as, unfortunately, my kitten likes to mark his territory all over my house, still. Which, apparently, includes my PC which I have had to clean a few times. So, to eliminate that, I had to put it on top of the desk. Honestly, I kind of like the change. I find it easier to plug things into the back hubs when needed since I do not have to crawl down under the desk to do so.
You may also notice that I have 2 mouse pads. I like to switch back and forth between them as one is softer than the other. Depending on how I'm feeling, I'll switch between the two pads. The one that I do not use I put under the keyboard as a little pad for it.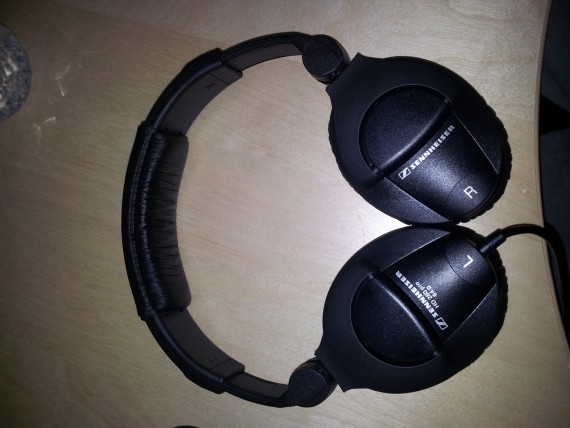 I recently purchased the Sennheisers that are listed above. I told myself that it was about time I got some real audio equipment. Don't get me wrong, the Siberias I have been using for over a year have gotten the job done, but I wanted something with some real quality in them. Amazon had an amazing deal on the Sennheisers and I couldn't pass it up. Let me tell you, the week I have been using them has been the best week I've ever had using headphones.
In the night time picture you will notice I have a light under the cabinet. It's just a generic little strip light I got from Ikea that can change colour over time or have a solid colour at all times. It definitely adds a nice feel to the station during late night gaming. Although, some of the colours are not easy on the eyes, but that's why I have Gunnars!
Thanks for checking out my staff station hopefully some of you enjoy it as much as I do.
Let us know what you think of our builds in the comment section below and be sure to follow us on Twitter at @KBMODGaming for the latest on all things KBMOD!