Reviews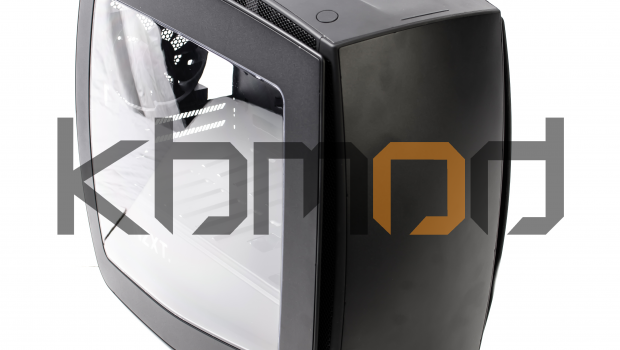 Published on March 2nd, 2016 | by Bob
1
Review – NZXT Manta Mini ITX Chassis
Meet NZXT's bold new move in to the Mini ITX market – the Manta. Positioned as a premium chassis at $139 MSRP, the Manta is a both striking and polarizing. Designed with structurally reinforced curved steel panels using a new manufacturing process, the exterior footprint is much larger than your average Mini ITX chassis. The left side panel is dominated by a massive acrylic window meant to display as much of the interior as possible. Speaking of the interior, you'll be hard-pressed to find another case in this segment with as much room for activities.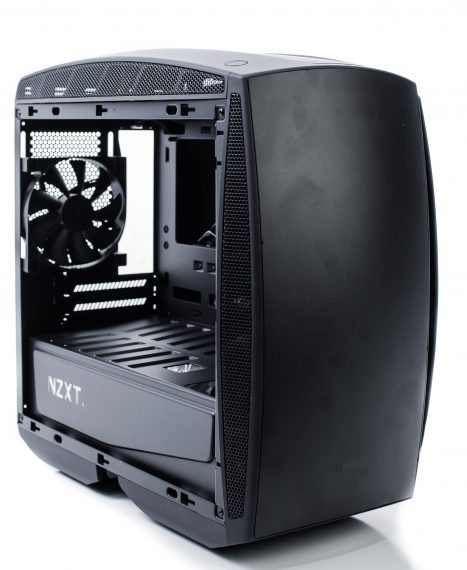 Mini ITX has become a popular format as power requirements for CPUs and GPUs have plummeted. The appeal of a more portable machine has consumers and manufacturers alike at full attention. The Manta is NZXT's first crack at the platform and, in my opinion, is a successful venture. This chassis in particular strikes a wonderful balance between size and functionality. As mentioned before, this is on the larger end of the platforms spectrum of cases, but it uses every inch in intelligent ways that result in a clean and practically effortless build. Even with large hands, I found the Manta extremely easy to build in – I feel confident that a novice would agree with that sentiment.
Six months ago, I had the pleasure of reviewing the NZXT Noctis 450 – another bold exterior designed around the bones of the celebrated H440. The Manta carries over many of the same lessons learned in the H440, the S340, and the Noctis 450. The Manta is graced with NZXT's trademark power supply shroud to keep the interior of your case separated and showcase the expensive bits. The Manta has room for even the longest GPUs (up to 363mm), some of the tallest CPU coolers (up to 160mm), and largest PSUs (363mm) on the market to date. It includes room for two 2.5in drives (one hidden), and three 3.5in drives (one hidden).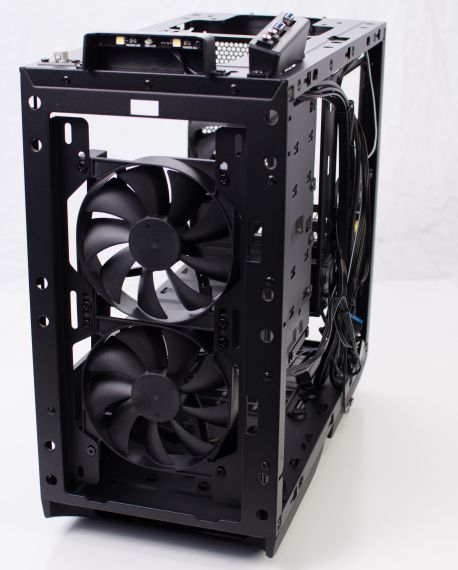 Two 120mm fans are provided for the front (though it can accommodate 2x140mm) and they are hidden behind the removable front panel and an included dust filter. 120mm fan is provided for the rear – the top can accommodate two 120/140mm fans – these are all controlled by an included 8 fan PWM fan hub unit mounted behind the motherboard tray. Theoretically speaking, this case could simultaneously accommodate two 280mm radiators and a 120mm radiator at the rear. Check out this exploded view from NZXT. They will be quick to remind you of their Kraken X61 closed loop liquid cooler with a 280mm radiator – it goes with this case like peanut butter and jelly. But less messy. Way less messy.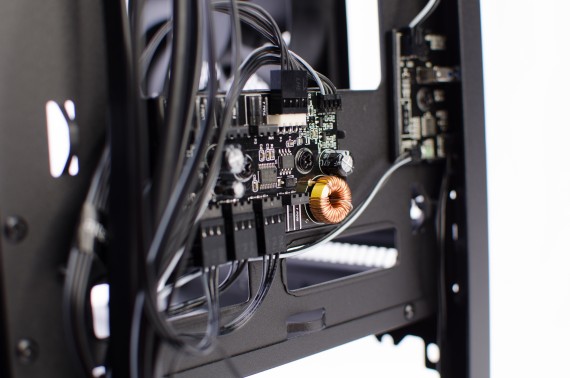 The curved panel provides a tremendous amount of space behind the motherboard tray for lazy cable management. In fact, it's up to twice as much space as tradition designs. Unless you suffer from OCD (which is no laughing matter) you'll find no need to put any effort in to cable management whatsoever. I might recommend some reasonable attempt at cable management but, truthfully, you could just throw your hands up, squeeze the cables in to place, slide the panel on and forget about it forever.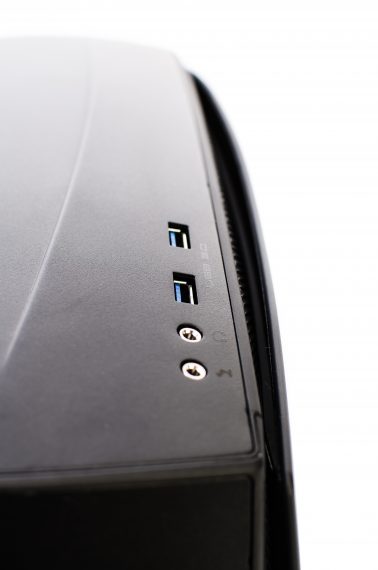 In our test build, the tried-and-true CoolerMaster Hyper 212 Plus and an EVGA GeForce GTX 980 SC Gaming ACX 2.0 fit with ease. That's no small task for your typical Mini ITX case. Even my ridiculously-long Gigabyte Windforce GTX 970 Gaming G1 at 312mm (not pictured) fit with plenty of room to spare.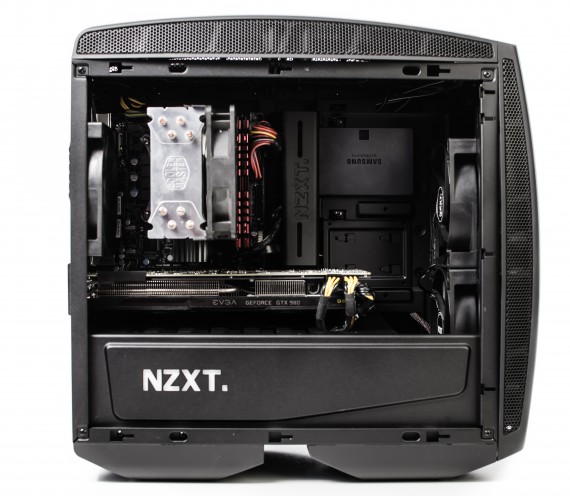 Interestingly enough the visible drives (2.5in drive trays) are intended to be mounted with the SATA and power connectors to the left. From an engineering perspective, this is obvious for easy cable management. From a design and aesthetic perspective, this means that the logo on basically every drive that you buy will be oriented upside down.  It's a very, very minor gripe in an otherwise meticulously planned chassis.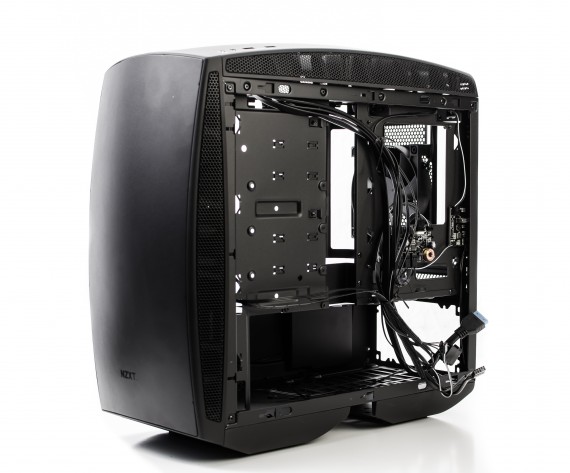 A removable drive cage under the PSU shroud at the front of the case would have been a welcome addition. You're able to mount a single 3.5in drive there if you lay the case on its side to screw it in from the bottom. The space there could potentially accommodate as many as three 3.5in drives packed tightly.
This case may not appeal to everyone. It's an intentionally polarizing design much like the rest of their product catalog – but you can't deny its capabilities, ease of use, and excellent pedigree. Whether or not it warrants the $139 MSRP in a market full of at least competent competition is debatable. I'd have to recommend picking one if up if you're in love (lust?) with the design, or you can catch one on a great sale.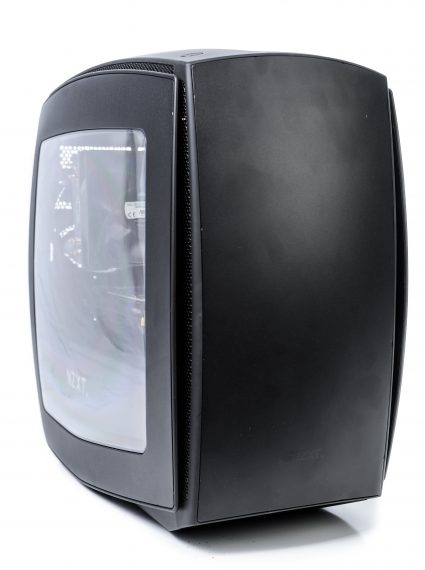 When it's all said and done, this is yet another excellent case in NZXT's product portfolio that carries along their trademarked (and award winning) features and innovations such as the LED-lit power supply shroud, the LED assist light at the rear IO panel, the cable management crossbar, and the 2.5in drive sleds found in their other products. If you're considering a high-end Mini ITX build, this just might be your case.
You'll find this case available at your favorite e-tailers such as Amazon (use our affiliate link, please!) and select brick and mortar stores in matte black (sampled), matte black + red, matte white + black, and matte black (windowless).
| | |
| --- | --- |
| Dimensions | 245mm x 426mm x 450mm |
| Materials | Fully steel plated exterior, steel chassis |
| Weight | 15.87lbs |
| Motherboard Support | Mini-ITX |
| External Features | 2x USB 3.0, 1x Audio/Mic, I/O Panel LED |
| Internal 3.5in | 2 |
| Internal 2.5in | 3 |
| PCI Expansion slot height | 2 |
| Front | 2x 120mm/140mm (2x120mm included) |
| Top | 2x 120mm/140mm |
| Rear | 1x 120mm (included) |
| CPU Cooler Clearance | 160mm |
| GPU Clearance | 363mm |
| Max PSU Length | 363mm |